Posts Tagged 'zircon'
Monday, March 24th, 2014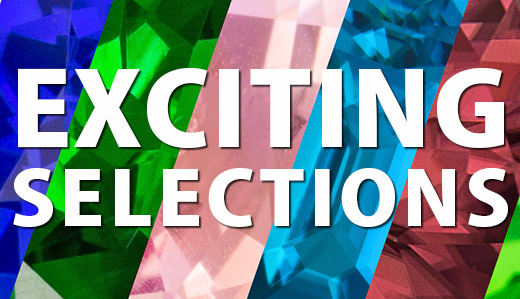 Our love and appreciation for fine color has led us to carry one of the most diverse inventories of color gemstones, constantly changing and evolving. Taking a quick mental snapshot of what we carry at present, these are a few areas we are particularly strong in:
Unheated Sapphires:
Great clarity and cut in better colors of blue in much requested smaller sizes up to larger single stones. This also includes yellows and pink Sapphires.

Blue and Fancy Color Sapphires:
Despite the ongoing scarcity of supply and increasing prices at the source, we continue to have an extensive inventory of fine blues, many excellent matched pairs, as well as yellows, pinks, purples, peaches and other shades of color.

Chrome Tourmaline:


We are excited about our recent purchase of a few larger chromes, which are very hard to find in better colors.
Tsavorites:
Great selection of top color stones in very salable sizes, super clean, well cut and bright with many matched pairs.

Zircon, Blue and Fancy:
Fine saturated blues in very well cut stones up to larger sizes, many excellent matched pairs. A huge range of size and shades of color in green, honey, brown, rose and yellow Zircons, excellent selection.

Of course, these are only some of the types of gemstones we carry. Feel free to browse our website, which also offers a very useful search option to help you fill your requests.
Tags: chrome tourmaline, color gemstones, sapphire, tsavorite, unheated sapphire, zircon
Posted in Articles, Gemstones, Learning Center, What's New | Comments Off on Exciting Selections
---
Thursday, December 5th, 2013
With winter's snow and cold temperatures gripping most of the northern hemisphere, we'd like to welcome everyone to cozy up next to a nice fiery Opal, the golden glow of Precious Topaz and Sapphire, or the rich warmth of Spessartite and Red Spinel.
All these and more are available to heat up your winter sales!
www.gem2000.com/gemsearch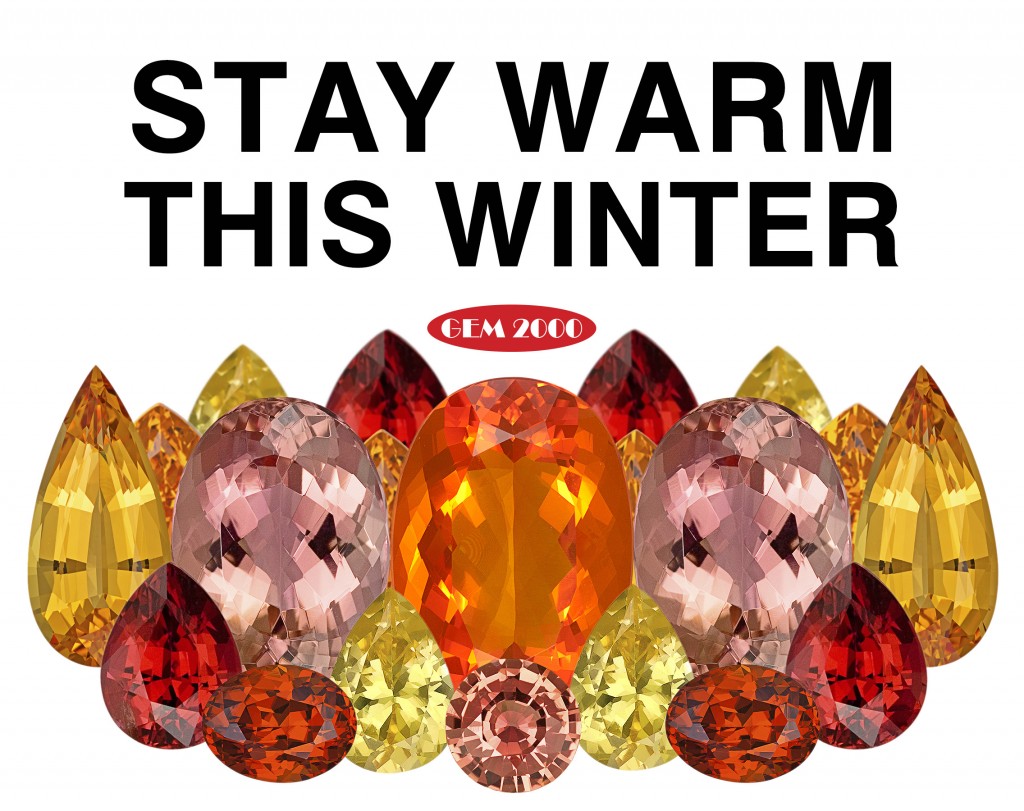 Tags: citrine, fire opal, sapphire, spessartite, spinel, stay warm, topaz, zircon
Posted in Gemstones | Comments Off on Stay Warm This Winter
---
Thursday, May 16th, 2013
With a very high Refractive Index and a dispersion rivaling that of diamonds, Zircons can truly dazzle the eye with their life and brilliance. Of course, the cut, clarity and even the color of the stone all play a huge role in the degree of fire they exhibit.

Most consumers are familiar with Blue Zircons, as they are the December birthstone and found in many pieces of jewelry, mostly of commercial quality. All Blue Zircons are mined in Cambodia, with finer qualities exhibiting stunning rich blue colors, worthy of being labeled "gem" by any standard.
In recent years, new finds of fancy color Zircons from Tanzania, Madagascar and Sri Lanka have added a whole range of exotic and exciting new colors to the Zircon family. Earth tones ranging from brown, honey, rose, yellow, goldens and greens are truly uncommon and exciting new shades not previously available to a designer's color palette. Their price points in larger sizes are also much lower than the Blue Zircons, allowing for very impressive looking larger looks at very reasonable price points. These fancy colors also look great in yellow and rose gold as well as in white metals.
Very diamond looking, very unique, high quality and a great value; these are all factors that combine to make each of these pieces extremely desirable and very sellable. Blue Zircons are a proven popular staple and offering fine colors in them will truly delight its existing loyal fan base.
Make sure to come by our booth and see what colors will appeal to you most, allowing you to offer impressive pieces for modest budgets. You can also browse over our website for the choices available to you.
Tags: blue, brilliance, brown. yellow, fancy, red, zircon
Posted in Gemstones, Learning Center | Comments Off on Zircons: What is your fancy?
---
Tuesday, August 7th, 2012

High on the list of the most cherished and recognized shades of blue in gemstones are Zircons.  Their color ranges from a swimming pool blue to an intense rich Indicolite or Sapphire blue.  Their high refractive index gives them a very bright and dispersive diamond like look.   Most people also know Blue Zircon as the December birthstone seen in a variety of jewelry pieces.  Blue Zircons have been around for many years and their main source is Cambodia.
In recent years, there have been more finds of Natural Zircons in Sri Lanka, Madagascar and Tanzania offering beautiful warm earthtones including golden, yellow, honey, cognac, rootbeer, orange brown, rosey brown, cinnamon and green.   Using creative descriptive terms to best conjure up the right color, has been an interesting challenge.

But as a whole I choose to call them Natural Fancy Color Zircons.  This implies they are not manmade, are the more unusual shades of Zircon and actually duplicate a lot of the shades found in Natural Color Diamonds, equally lively and dispersive only at much more affordable price points.

These gems allow you to offer very impressive pieces of jewelry, with great mark ups at very desirable price points.  We presently have a great selection of these beauties for you to choose from, so make time to visit our website or our booth at the next major show. You cannot go wrong.
Tags: blue zircon, fancy zircon, natural gemstone, zircon
Posted in Gemstones, Learning Center | Comments Off on Beautiful Natural Zircon
---
Tuesday, March 6th, 2012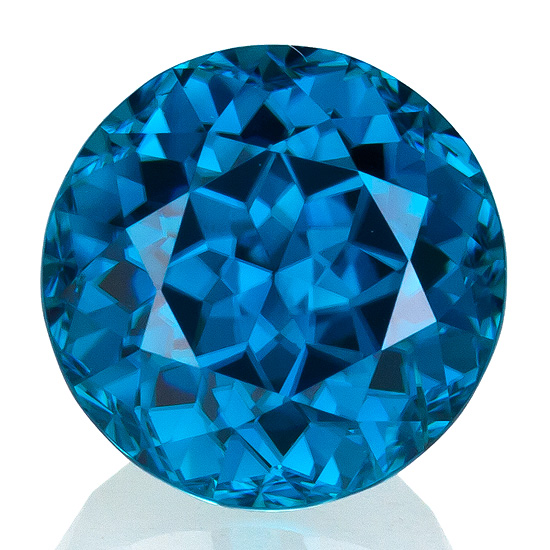 We are so very excited about our current collection of super fine Blue Zircons in a great range of sizes. Finding finer Blue Zircons over 5 carats has become more & more challenging over the years, and even when you do find them, they rarely meet the high cutting standards we demand to see in most other gems. Zircons are a heavier gem, so a deeper cut stone adds up to a few more carats on the scale easily. Most often we are told that a heavy pavilion is what gives the color to this gem. We are proud to offer you fine color in very well cut and proportioned pieces up to 20 carats plus. It took a lot of work to acquire and put together such a great selection of super fine pieces. Blue Zircon has a very high refractive index, close to Diamonds, making it super lively and sparkly; It is also the December birthstone.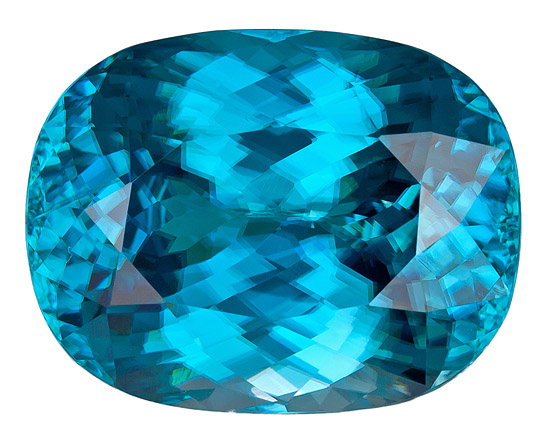 Blue is a great seller and with current asking prices for larger Sapphires, Blue Zircons of fine color are a very impressive look to offer your customers, duplicating the life of fancy color Blue Diamond at a great value. Feel free to visit our website to browse through what we have to offer you, or just give us a call.
Tags: blue gemstone, blue zircon, december birthstone, gem 2000, gems, zircon
Posted in Articles, Gemstones, What's New | Comments Off on Amazing Blues!
---
Tuesday, May 24th, 2011
After watching recent media coverage of high fashion celebrities, it will not be a surprise to you that green and blue gemstones are stealing the show again.
At present we have a great selection of both these colors in our inventory:
Shades of Blue – Sapphire, Aquamarine, Beryl, Tourmaline, Spinel, Zircon, Iolite, and Tanzanite

Shades of Green – Emerald, Tsavorite, Chrome Tourmaline, Tourmaline, Beryl, Zircon, and Peridot

Come by and stock up on some desired color, fashionable ladies wish to own. There is a great range of price points for you to choose from.
Tags: apatite, aqua, beryl, blue gemstones, chrome, emerald, fashion blues, gem 2000, green gemstones, greens, iolite, peridot, popular, sapphire, spinel, tanzanite, tourmaline, tsavorite, zircon
Posted in Articles, Gemstones | Comments Off on Blue and Green Rule!
---
Friday, October 15th, 2010
Earthy and sunny, this beautiful matched pair of yellow Zircon is extremely well cut, bright and super well matched. Their amazing life and sparkle truly resembles fancy color diamonds. At a super affordable price, it allows you to create a very salable custom look.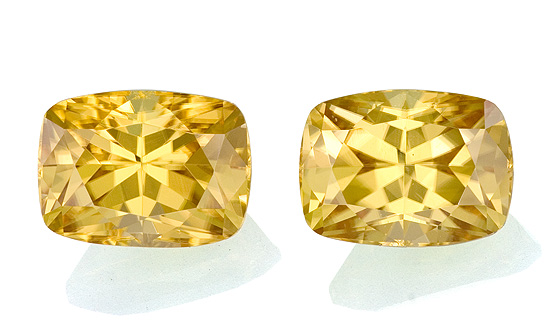 Item #2947 – 9.9 x 7.3mm Cushion Pair Natural Yellow Zircon – 8.93ctTW
Framed very simply in gold, they will surely catch the eye of any discerning customer who wants the big bold look on a budget. A sure winner.
Tags: gems, gemstone, pair of yellow zircon, yellow zircon, zircon
Posted in Gemstones, What's New | Comments Off on Natural Yellow Zircon Cushion Pair
---
Thursday, October 14th, 2010
Celebrating falls earthy neutral colors, this beautiful cushion Zircon is extremely well cut and bright. Its crispness and clarity truly gives it a stunning fancy color diamond look that is very impressive and eye catching at a small fraction of the cost.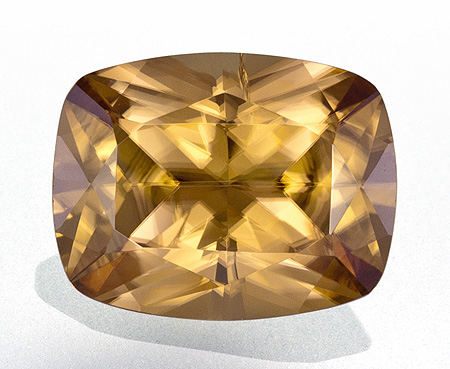 Item # 3119 – 13.9 x 10.8 mm Cushion Honey Zircon – 8.97 ct
Larger Zircon such as this are very rare and often appear lazy and muddy in appearance. This very affordable gem offers your customer the wow factor well within their means. A truly salable and unique piece.
Tags: brown zircon, gemstone, zircon
Posted in Gemstones, What's New | Comments Off on Honey Natural Zircon
---
Thursday, April 29th, 2010


As importers of fine colored stones in a large range of gems, we have noticed a significant increase in interest and demand for more unusual gems. Recently this interest has become even stronger. Gems such as Chrysoberyl, Spinels, fancy color Zircons, fancy color Sapphires, Apatites, and many more have proven to be very popular. We have also noticed a greater demand for finer pieces in less expensive materials which helps distinguish a piece of jewelry from a mass produced, mall store offering.
In the same line of thinking smaller finer gems in medium to more expensive materials are also in high demand allowing jewelers to offer affordable high quality pieces to their discriminating and better informed customers.
Tags: apatite, chrysoberyl, color, fancy, gem 2000, gems, Gemstones, sapphire, spinel, unusual, zircon
Posted in Gemstones, Learning Center, What's New | Comments Off on The Unusuals Have Become Popular
---
Friday, November 20th, 2009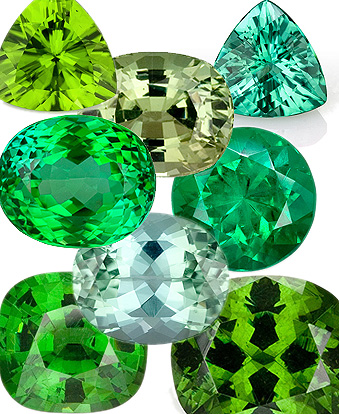 As we approach the month where most jewelers report, accounts for more than 30% of their yearly sales, it is important to be aware of what is "desired" this season. Based on fashion and industry reports "green" is in. Green, with all its wonderful and various shades, from forest to moss to lemon. Our extensive range of colored gems in green includes: Emeralds, Tsavorites, Chrome Tourmalines, amazing varied hues of Tourmaline, Peridots, green Zircons, and lemony Chrysoberyls. This great range and variety of gems is sure to please all tastes and budgets. Make sure to offer some "green" to your customers this season.
Tags: chrome tourmaline, chrysoberyl, color, emerald, Gemstones, green, moss, peridot, tourmaline, tsavorite, zircon
Posted in Learning Center | Comments Off on Green is In
---