Posts Tagged 'spinel'
Tuesday, May 2nd, 2017
Red Spinel
No longer "just" the alternative red stone for those budgets which don't allow for Ruby, Red Spinel has refound its justified place in the color gemstone world as a verified superstar. Durable, bright, and with vivid intense hues, fine gem Red Spinel can add serious wow-factor to any design. Supply has traditionally been dominated by stones from Tajikistan, Burma, and Vietnam, but fine East African Red Spinels are also now available. Burmese Red Spinels are considered the finest, and the truest red of all locations.
Visit us at www.gem2000.com/redspinel to see for yourself our fine inventory of Red Spinel! Seeing is believing!
Tags: color gems, Gemstones, jewelry, matched pair, natural gemstones, red spinel, spinel
Posted in Gemstones, What's New | Comments Off on Red Spinel
---
Wednesday, July 27th, 2016
Spinel Ascending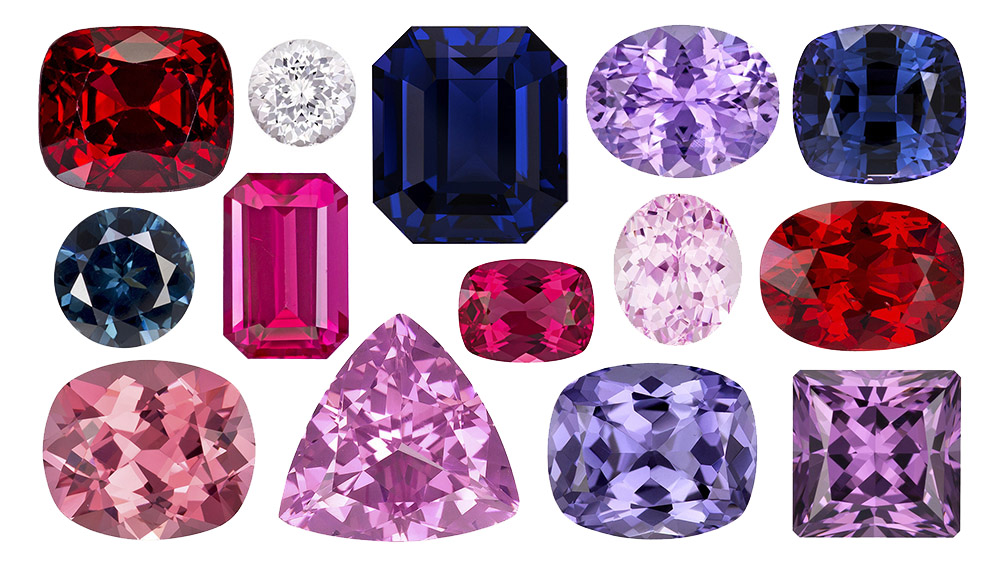 A trend strengthening over the last two years: young couples getting engaged truly wish to have something unique and different from everyone else. This desire translates to wanting a color stone over a diamond as their engagement ring. When choosing a colored gem for bridal wear, durability becomes very important and we recommend that it be no lower than 8 on the Moh's scale, as it will be worn everyday and softer stones easily abrade over time. Following Corundum, Spinel offers the best range of colors to choose from. Also, just last month, Spinel was announced as an alternative August birthstone!


Stop by our website for our beautiful offering fine gem Spinels!
Tags: august, birthstone, blue, color gemstones, engagement, jewelery, peach, pink, purple, red, ring, spinel
Posted in Gemstones, Learning Center, What's New | Comments Off on Spinel Ascending
---
Wednesday, July 27th, 2016
We carry an extensive range of colored gemstones, so this puts us in the frontline position for detecting new patterns and shifts in demand as they occur at retail. The newest and strongest trend at the moment is requests for bridal center stones in a variety of colored gemstones. The most popular is requests for sapphires in blues, peaches, pinks, yellows and all shades of purple. There are also requests for rubies, spinels,tourmalines … even aquamarines.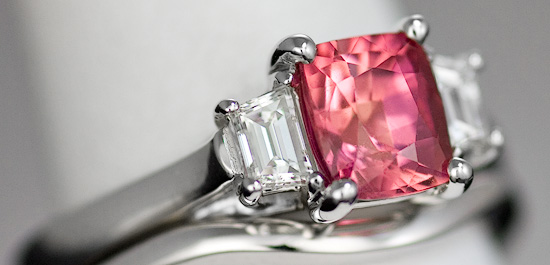 In an advisory role as a professional jeweler, we recommend that you steer away your customer from gemstones that fall short on the durability aspect, and are less than 7 ½ hardness on the Mohs scale. Those range of stones are suitable for occasional wear but since bridal jewelry gets the most beating of all, better spare the bride avoidable disappointment with her new ring.
If your sales people are not aware of this concept, it is best for them to be educated on the need to check the hardness of gems, before recommending or selling a particular gemstone for bridal wear. We are here to help you with appropriate choices. You can also visit our website for the wide range of specific gems available to you and your bride to be.
Tags: aqua, color bridal, color gems, durability, Gemstones, mohs, ruby, sapphire, spinel, tourmaline
Posted in Articles, Gemstones, Learning Center, What's New | Comments Off on Color In Bridal
---
Thursday, December 5th, 2013
With winter's snow and cold temperatures gripping most of the northern hemisphere, we'd like to welcome everyone to cozy up next to a nice fiery Opal, the golden glow of Precious Topaz and Sapphire, or the rich warmth of Spessartite and Red Spinel.
All these and more are available to heat up your winter sales!
www.gem2000.com/gemsearch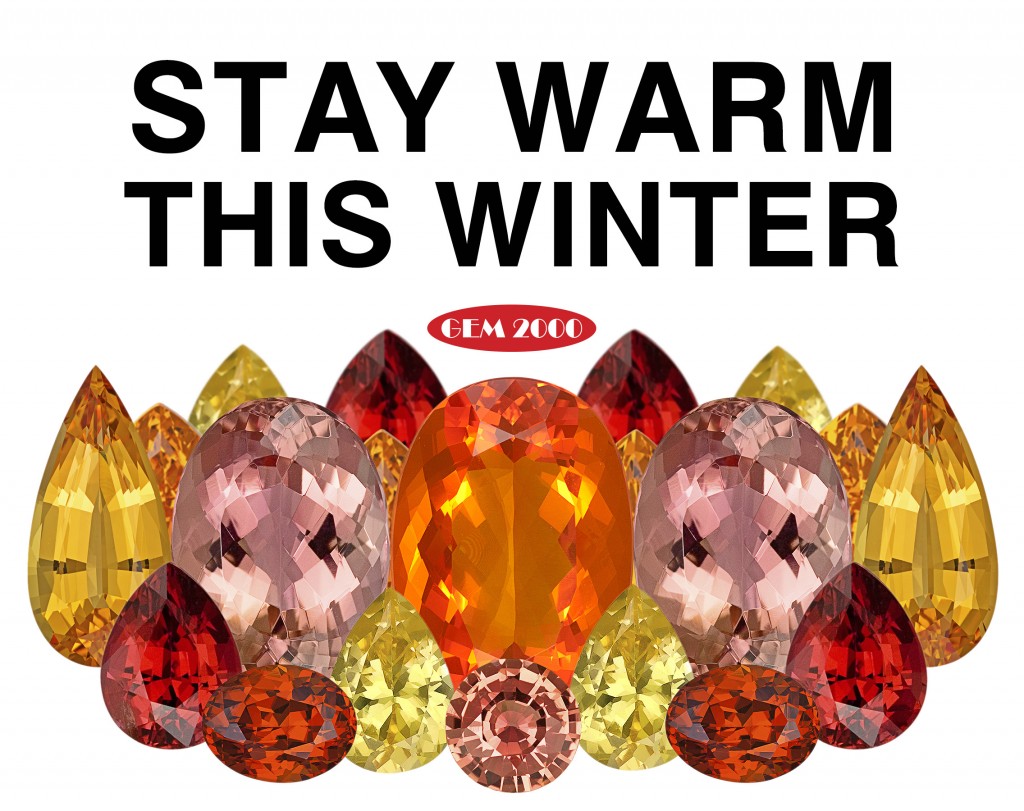 Tags: citrine, fire opal, sapphire, spessartite, spinel, stay warm, topaz, zircon
Posted in Gemstones | Comments Off on Stay Warm This Winter
---
Monday, August 26th, 2013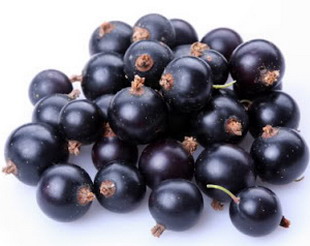 Designers are calling it autumn's deep and luxurious new neutral.  Prominent designer's runway collections have referred to it by; Midnight Violet, Black Plum and Deep Orchid.
 The next natural request from your fashion savvy consumers will be an offering of various colored gemstone jewelry in a similar palette of colors.  Besides the more obvious choice of Amethyst, suitable for larger pieces of jewelry, there are also Sapphires and Spinels that offer a wonderful range of purple violety rich magenta colors.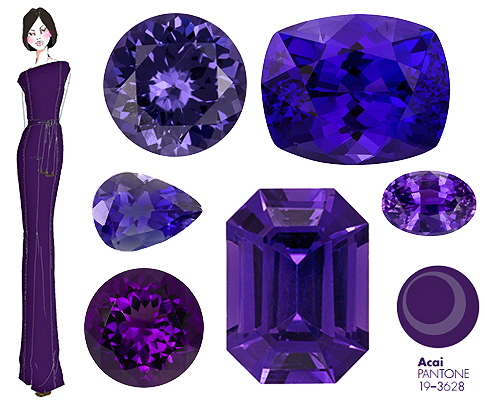 Both of these gemstones with very high hardness are ideal for high use rings as well as other pieces of jewelry.  Tanzanite's and Iolite's also offer these colors, when found in finer, richer shades. With so many hues of color, and price points to pick from it would be wise to have a range of pieces for your customers to view.  Our website with its many "true to life" pictures of our inventory is also a useful tool to help narrow down specific shades of purple, price points and gem materials.

Tags: acai, amethyst, color trends, designers, fall fashion color, gem 2000, gemsearch, Gemstones, iolite, pantone, plum, purple, sapphire, spinel, tanzanite, violet
Posted in Articles, Gemstones, Learning Center, What's New | Comments Off on A promising Fall Color: Açaí, The dark purple berry.
---
Monday, April 8th, 2013
Exceptionally clean and well cut, this vibrant pinkish red Spinel from Vietnam is super bright and lively.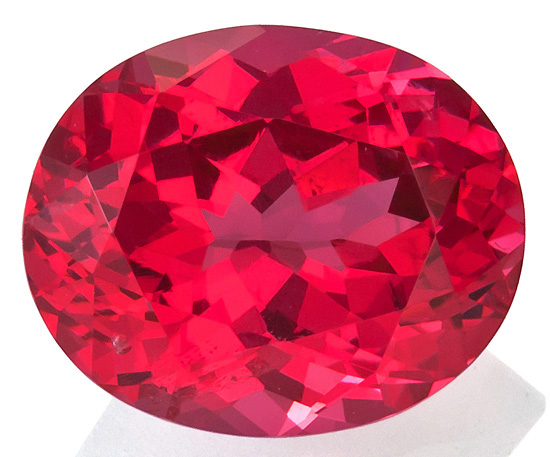 Item# 3623 – 9.8 x 8.0 mm Oval – 3.20 ct
Larger red Spinels have become very scarce in the market, seeing the largest price increases these past few years. This is a great looking bright stone at a great value, sure to please the most discriminating of taste.
Tags: gem, gemstone, large, oval, red, spinel, Vietnam
Posted in Gemstones, What's New | Comments Off on Oval Red Spinel
---
Wednesday, January 16th, 2013
Taking its rightful place in the world of gems, Spinel has definitely arrived. The discovery of the Tanzanian reds and pinks helped this beautiful gem finally get the credit it deserves. We find that using a country of origin name along with Spinel, i.e.: Burmese Spinel, helps remind everyone that these are natural gems actually mined at these sources.

The great thing about Spinel is the wonderful range of colors it comes in, its great clarity and it's durability. Spinel has a hardness of 8 on the Mohs scale right behind Sapphires with a hardness of 9. As a rule, colors in Spinel tend to have steeliness to them, so finding saturated, vivid colors are a rare treat. At present, Vietnam, Burma and Sri Lanka produce pink, lavender, peach, steely blues, pink red and red colors. Tanzania produces open reds, pink reds and neony pink, (Mahenge mines) along with some new finds of purple colors.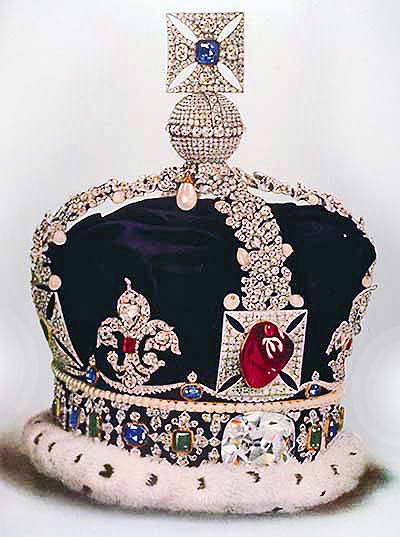 Many shades of Spinel truly resemble that of Corundum, hence the red Spinel in the British Royal Crown Jewels thought to be rubies for many years. A bargain compared to Sapphires of the same shade of color in pink, lavender, peach and purple, Spinels look equally vibrant and beautiful. Larger sizes in this gem are hard to come by and often priced as high as their Sapphire counterparts. Obviously, fine red colors are the most expensive, with the larger sizes experiencing the largest price increase and rarity.
As more people express interest in unique and untreated gems, make sure to familiarize yourself with this wonderful gem. Please come by and check out our great selection at our booth or on our website at www.gem2000.com.
Tags: black prince ruby, burma, gem 200, mohs, natural, spinel, tanzania
Posted in Articles, Gemstones, Learning Center | Comments Off on The World of Spinels
---
Monday, August 6th, 2012
As a gemstone dealer who has chosen to inventory a large variety of gemstones, I am often asked about the durability and wear-ability of specific gemstones we carry. I try to answer this question by first asking:
"What piece of jewelry is this gem getting set in?"
Obviously a ring gemstone is a lot more exposed to getting knocked around than a pendant or earrings. If the answer is a ring, then I need to ask if the ring is a cocktail ring worn occasionally or an engagement ring that will be worn every day and will experience a lot more wear and tear.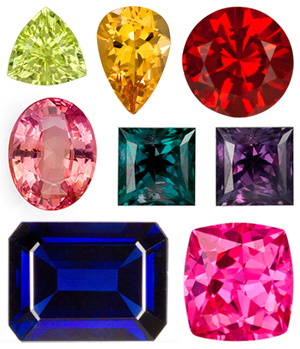 If it is an engagement stone, I recommend that they not go lower than an 8 on the Mohs' scale of hardness.
These gem varieties include: Ruby, Sapphire, Spinel, Alexandrite, Chrysoberyl and Topaz. Of course, gemstones with hardness of 6 1/2 and up are still very suitable for wear in rings, but not on an everyday basis. Softer stones than that, I highly recommend be worn in pendants, pins or earrings. Gems softer than a 4 should be cherished more as beautiful specimens to look at but maybe not mounted in jewelry.
Sharing this type of information with your customers will help them make informed gem purchases, suitable for their lifestyle and jewelry use.
Tags: alexandrite, chrysoberyl, gem durability, gemstone hardness, mohs, ruby, sapphire, spinel, topaz, wearability
Posted in Articles, Gemstones, Learning Center, Often Asked Questions | Comments Off on Wear-ability of Gems
---
Wednesday, May 16th, 2012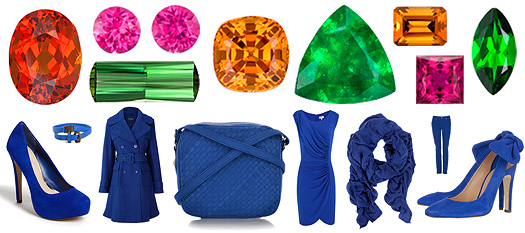 Walking around any fashion retail outlets and looking at their offerings, it is not hard to see that the upcoming hot color is cobalt blue. Used in a variety of ways this color has just started its rule of the fashion runways. To help us accessorize this upcoming wardrobe with regards to jewelry choices, let's review our options: Blue Sapphire, Tanzanite, and Blue Spinel all work for matching purposes. Rich strong fuchsia pinks, rich oranges and saturated greens work well as contrasting complimentary colors. Gems that work well for this would be Pink Sapphire, Rubellite, Spinel, Spessartite, Citrine, Tsavorite, Emerald and green Tourmaline. Be aware of upcoming color trends in fashion so you can stay current with your selection of jewelry.

Tags: cobalt blue, color trends, complementary color, sapphire, spinel, tanzanite
Posted in Articles, What's New | Comments Off on Latest Color Trend: Cobalt Blue
---
Tuesday, May 15th, 2012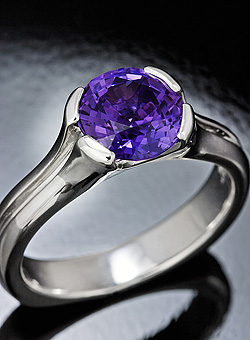 Responding to gem requests from hundreds of jewelers all across the country, we are seeing a strong trend taking shape among the new generation ready to tie the knot. Many are opting for a gemstone other than a diamond. The reasons range from wanting something less traditional, more unique, bigger for the money or just making a statement. Whatever their reasons might be, here is your chance to steer this excited couple towards a colored gem, beautiful and durable.
Sapphire is the first obvious choice with its amazing range of colors sure to please any taste. The next best choice, much less explored, is spinel; close to sapphire on the hardness scale, also with a great range of colors to pick from. Besides the few highly coveted colors of red, cobalt blue or neon pink, most often spinels are priced lower than sapphires, making them an attractive ring stone choice. As the professional advisor to this important purchase, be aware of guiding your customer away from softer gems that might not stand up to the wear and tear of everyday use. Your happy couple will appreciate the larger and more unique look of their beautiful engagement ring, distinguishing them from the thousand of lookalike diamond rings on most hands.

Get ready to tap into this growing market of savvy shoppers helping them commit in the most unique and colorful way, with higher profit margins for you!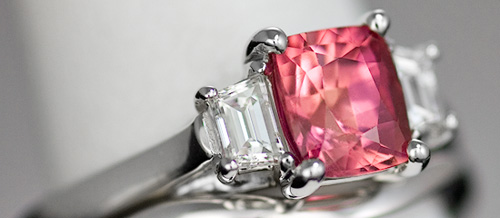 Tags: color gem ring, color gemstone, engagement rings, married, sapphire, spinel
Posted in Articles, Gemstones | Comments Off on Saying "No" to Diamonds
---