Posts Tagged 'mohs'
Wednesday, July 27th, 2016
We carry an extensive range of colored gemstones, so this puts us in the frontline position for detecting new patterns and shifts in demand as they occur at retail. The newest and strongest trend at the moment is requests for bridal center stones in a variety of colored gemstones. The most popular is requests for sapphires in blues, peaches, pinks, yellows and all shades of purple. There are also requests for rubies, spinels,tourmalines … even aquamarines.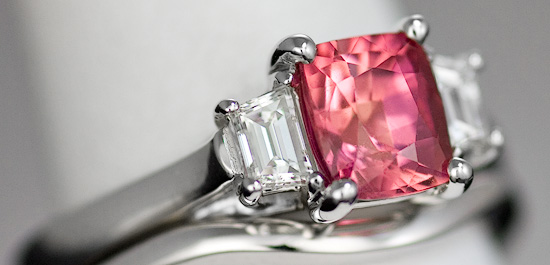 In an advisory role as a professional jeweler, we recommend that you steer away your customer from gemstones that fall short on the durability aspect, and are less than 7 ½ hardness on the Mohs scale. Those range of stones are suitable for occasional wear but since bridal jewelry gets the most beating of all, better spare the bride avoidable disappointment with her new ring.
If your sales people are not aware of this concept, it is best for them to be educated on the need to check the hardness of gems, before recommending or selling a particular gemstone for bridal wear. We are here to help you with appropriate choices. You can also visit our website for the wide range of specific gems available to you and your bride to be.
Tags: aqua, color bridal, color gems, durability, Gemstones, mohs, ruby, sapphire, spinel, tourmaline
Posted in Articles, Gemstones, Learning Center, What's New | Comments Off on Color In Bridal
---
Wednesday, January 16th, 2013
Taking its rightful place in the world of gems, Spinel has definitely arrived. The discovery of the Tanzanian reds and pinks helped this beautiful gem finally get the credit it deserves. We find that using a country of origin name along with Spinel, i.e.: Burmese Spinel, helps remind everyone that these are natural gems actually mined at these sources.

The great thing about Spinel is the wonderful range of colors it comes in, its great clarity and it's durability. Spinel has a hardness of 8 on the Mohs scale right behind Sapphires with a hardness of 9. As a rule, colors in Spinel tend to have steeliness to them, so finding saturated, vivid colors are a rare treat. At present, Vietnam, Burma and Sri Lanka produce pink, lavender, peach, steely blues, pink red and red colors. Tanzania produces open reds, pink reds and neony pink, (Mahenge mines) along with some new finds of purple colors.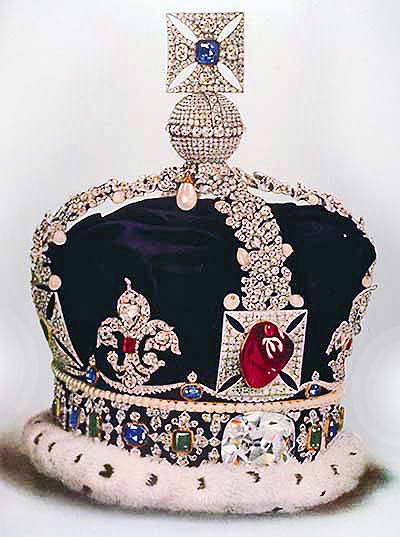 Many shades of Spinel truly resemble that of Corundum, hence the red Spinel in the British Royal Crown Jewels thought to be rubies for many years. A bargain compared to Sapphires of the same shade of color in pink, lavender, peach and purple, Spinels look equally vibrant and beautiful. Larger sizes in this gem are hard to come by and often priced as high as their Sapphire counterparts. Obviously, fine red colors are the most expensive, with the larger sizes experiencing the largest price increase and rarity.
As more people express interest in unique and untreated gems, make sure to familiarize yourself with this wonderful gem. Please come by and check out our great selection at our booth or on our website at www.gem2000.com.
Tags: black prince ruby, burma, gem 200, mohs, natural, spinel, tanzania
Posted in Articles, Gemstones, Learning Center | Comments Off on The World of Spinels
---
Monday, August 6th, 2012
As a gemstone dealer who has chosen to inventory a large variety of gemstones, I am often asked about the durability and wear-ability of specific gemstones we carry. I try to answer this question by first asking:
"What piece of jewelry is this gem getting set in?"
Obviously a ring gemstone is a lot more exposed to getting knocked around than a pendant or earrings. If the answer is a ring, then I need to ask if the ring is a cocktail ring worn occasionally or an engagement ring that will be worn every day and will experience a lot more wear and tear.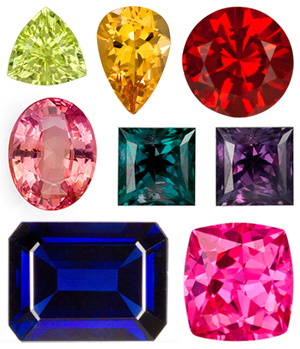 If it is an engagement stone, I recommend that they not go lower than an 8 on the Mohs' scale of hardness.
These gem varieties include: Ruby, Sapphire, Spinel, Alexandrite, Chrysoberyl and Topaz. Of course, gemstones with hardness of 6 1/2 and up are still very suitable for wear in rings, but not on an everyday basis. Softer stones than that, I highly recommend be worn in pendants, pins or earrings. Gems softer than a 4 should be cherished more as beautiful specimens to look at but maybe not mounted in jewelry.
Sharing this type of information with your customers will help them make informed gem purchases, suitable for their lifestyle and jewelry use.
Tags: alexandrite, chrysoberyl, gem durability, gemstone hardness, mohs, ruby, sapphire, spinel, topaz, wearability
Posted in Articles, Gemstones, Learning Center, Often Asked Questions | Comments Off on Wear-ability of Gems
---