Posts Tagged 'matched pair'
Tuesday, May 2nd, 2017
Red Spinel
No longer "just" the alternative red stone for those budgets which don't allow for Ruby, Red Spinel has refound its justified place in the color gemstone world as a verified superstar. Durable, bright, and with vivid intense hues, fine gem Red Spinel can add serious wow-factor to any design. Supply has traditionally been dominated by stones from Tajikistan, Burma, and Vietnam, but fine East African Red Spinels are also now available. Burmese Red Spinels are considered the finest, and the truest red of all locations.
Visit us at www.gem2000.com/redspinel to see for yourself our fine inventory of Red Spinel! Seeing is believing!
Tags: color gems, Gemstones, jewelry, matched pair, natural gemstones, red spinel, spinel
Posted in Gemstones, What's New | Comments Off on Red Spinel
---
Monday, October 18th, 2010
A hot vivid rich orange, this beautiful matched pair of pear shaped Spessartite Garnet truly dazzles. Their color, clarity and superior cut will guarantee any design featuring them to shine.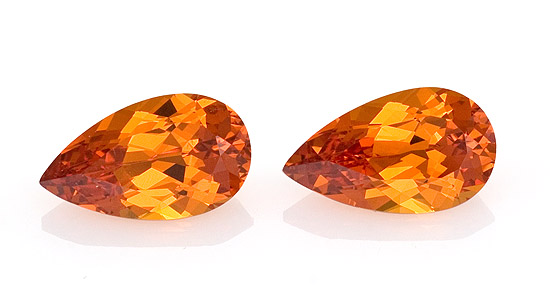 Item # 2852 – 9.6 x 5.6 mm Pear Shape Spessartite Garnet – 3.15 ct TW
Drop earrings are in!! Seen in so many winning designs and on red carpets, this beautiful pop of color can truly be worn all year round, simply by themselves or as accents for larger earrings.
Tags: color gems, garnet, Gemstones, matched pair, pear shape spessartite garnet, spessartite
Posted in Gemstones, What's New | Comments Off on Matched Pair of Pear Shape Spessartite Garnet
---