Posts Tagged 'MAJS'
Friday, August 3rd, 2012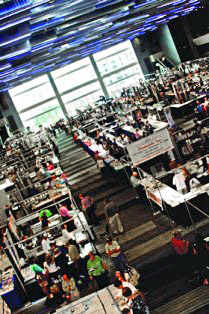 Easy, manageable and super low stress, the Mid America Jewelry Show is a must attend for all. Held at the beautiful Battelle Hall at the Columbus Convention Center, located in the vibrant and trendy Short North of Columbus, there is much to do and see after show hours.
The great variety of exhibitors present, allows you to take care of most of your jewelry supply and service needs by attending this show. It is a great regional show that does not leave you overwhelmed and exhausted, like some other major shows do. There also is an offering of classes and lectures by industry experts for you to benefit from.
We are excited to offer you an amazing range of quality colored gemstones sure to please any budget and preference.
Come by and visit us at Booth 208.

We are also offering a volume based discount on at show purchases.
3% $1-2K; 5% $2-5K; 7% $5-10k; 10%$10K+
Feel free to call us for any of your gem requests or visit our website at www.gem2000.com for a preview of what we carry.
1-800-545-9555
Tags: batelle grand ballroom, colored gemstones, columbus, gem 2000, MAJS, mid-america jewelry show, short north
Posted in Shows | Comments Off on August in Columbus
---
Wednesday, July 27th, 2011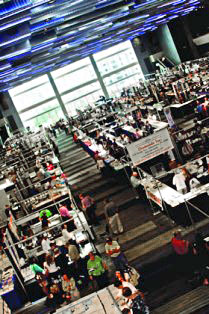 For many of you this will prove a very convenient, inexpensive and fun show to attend. Downtown Columbus, Ohio, the show is conveniently located close to many fun and happening destination spots. The Short North, where the convention center is located, is full of great restaurants, night life, galleries and boutique shopping. The venue itself, The Battelle Grand Ballroom, is a beautiful, modern hall, a feast for your visual senses. There is a great mix of exhibitors to satisfy all your show buying needs with Saturday and Sunday hours, allowing store owners and buyers to attend and be back in time for the work week.
Mid America Jewelry Show
Greater Columbus Convention Center
Battelle Grand Ballroom
August 20-21, 2011
Booth # 208
We have a great selection of gems in a variety of sellable and popular shapes and shades of color, covering all price points to offer to your ever increasing fashion savvy customers.
Make sure to come by our booth and see what we can offer you then and throughout the year. As the calls walk into your store, be sure to turn them into sales, knowing who to call for quality and value.
Also feel free to use our Online Gem Search resource on our webpage, where you can quickly and easily find out and request, information on stones in our inventory. Check it out today!

Tags: 2011, columbus, gem 2000, gem show, Gemstones, MAJS, mid-america jewelry show
Posted in Shows | Comments Off on Mid America Show Coming Up
---