Posts Tagged 'Gemstones'
Tuesday, May 2nd, 2017
Red Spinel
No longer "just" the alternative red stone for those budgets which don't allow for Ruby, Red Spinel has refound its justified place in the color gemstone world as a verified superstar. Durable, bright, and with vivid intense hues, fine gem Red Spinel can add serious wow-factor to any design. Supply has traditionally been dominated by stones from Tajikistan, Burma, and Vietnam, but fine East African Red Spinels are also now available. Burmese Red Spinels are considered the finest, and the truest red of all locations.
Visit us at www.gem2000.com/redspinel to see for yourself our fine inventory of Red Spinel! Seeing is believing!
Tags: color gems, Gemstones, jewelry, matched pair, natural gemstones, red spinel, spinel
Posted in Gemstones, What's New | Comments Off on Red Spinel
---
Wednesday, July 27th, 2016
We carry an extensive range of colored gemstones, so this puts us in the frontline position for detecting new patterns and shifts in demand as they occur at retail. The newest and strongest trend at the moment is requests for bridal center stones in a variety of colored gemstones. The most popular is requests for sapphires in blues, peaches, pinks, yellows and all shades of purple. There are also requests for rubies, spinels,tourmalines … even aquamarines.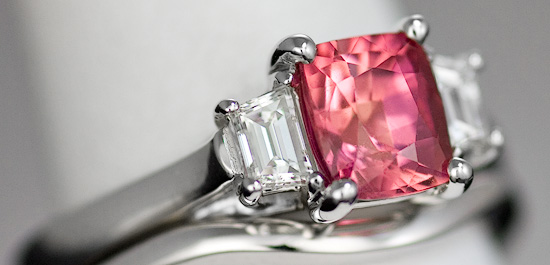 In an advisory role as a professional jeweler, we recommend that you steer away your customer from gemstones that fall short on the durability aspect, and are less than 7 ½ hardness on the Mohs scale. Those range of stones are suitable for occasional wear but since bridal jewelry gets the most beating of all, better spare the bride avoidable disappointment with her new ring.
If your sales people are not aware of this concept, it is best for them to be educated on the need to check the hardness of gems, before recommending or selling a particular gemstone for bridal wear. We are here to help you with appropriate choices. You can also visit our website for the wide range of specific gems available to you and your bride to be.
Tags: aqua, color bridal, color gems, durability, Gemstones, mohs, ruby, sapphire, spinel, tourmaline
Posted in Articles, Gemstones, Learning Center, What's New | Comments Off on Color In Bridal
---
Wednesday, July 27th, 2016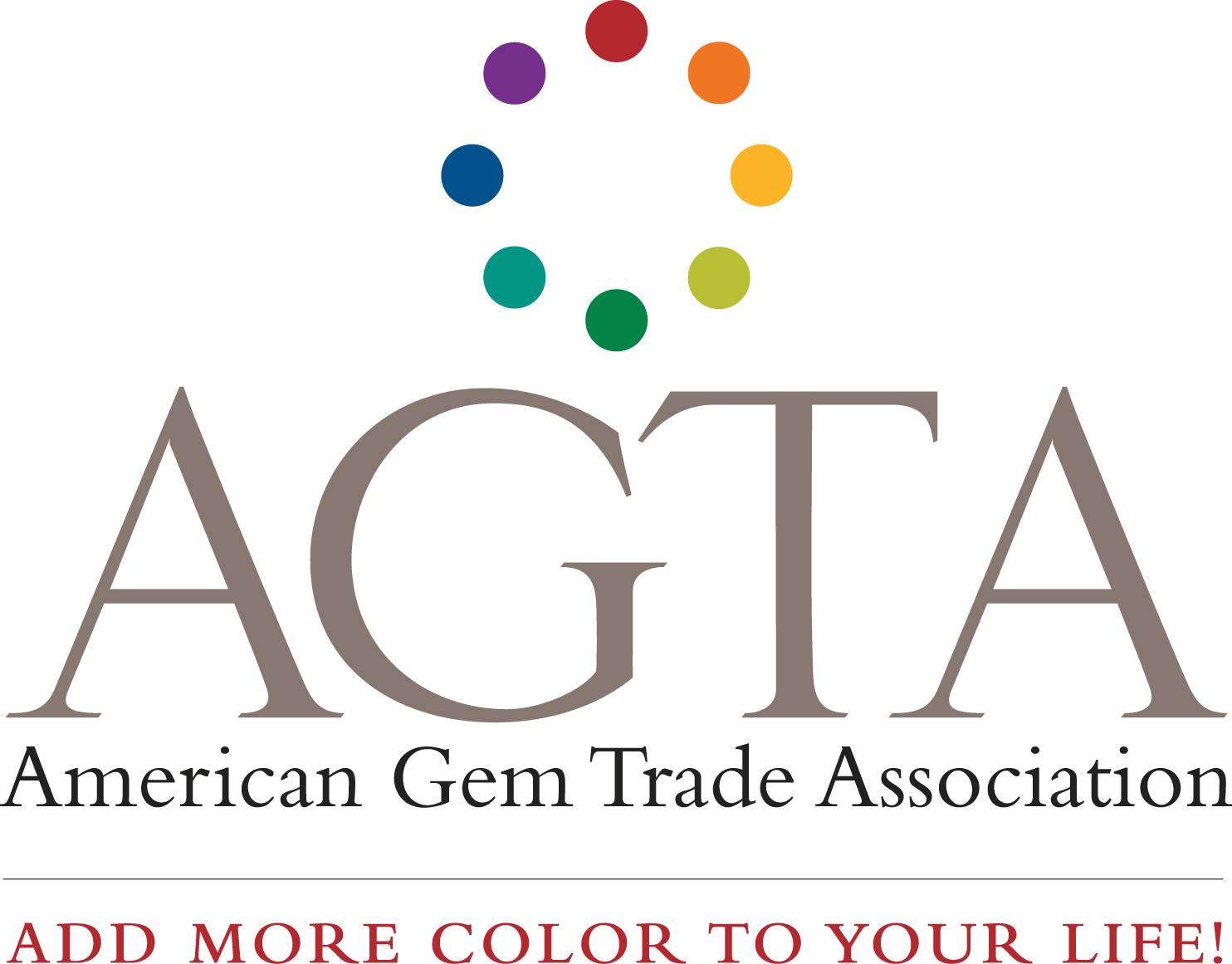 2016 Summer AGTA Spectrum Winners
Tags: agta, awards, color, Gemstones, jewelry, Spectrum
Posted in Articles, Gemstones, What's New | Comments Off on Congratulations to all the 2016 Summer AGTA Spectrum winners!
---
Tuesday, March 18th, 2014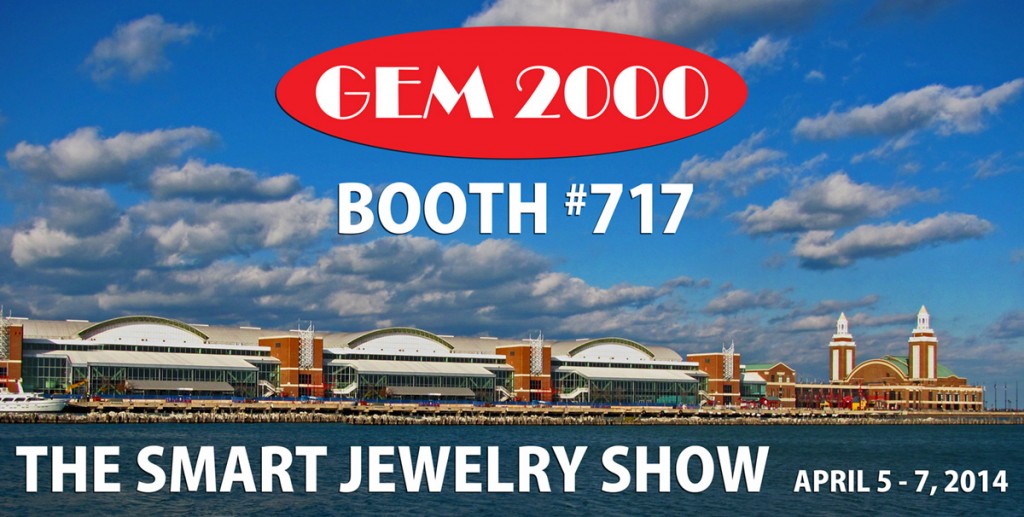 With much anticipation for the arrival of spring this year, much of the retail industry is reminding us daily of lighter brighter more colorful days ahead. Perfectly timed, after a very hard and long winter for many of us, the Smart Jewelry Show is a wonderful venue where you can stock up on all that signals the renewal of life and the celebration of color.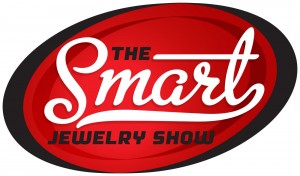 At the Navy Pier in Chicago, this important regional show has consistently grown and improved since it began 5 years ago, making it a perfect destination for many jewelers who cannot wait as long as JCK or enjoy a more manageable, calmer show experience.There is a huge range of vendors covering every single aspect of the industry along with tons of seminars, classes and informational meetings.
At present, we have a wonderful range of beautiful colored gems in many varieties and price points. Please come by our booth and take a look for yourself and enjoy the quality and value we offer.
Feel free to preview our inventory online to get familiar with our offerings. We look forward to seeing you there. Visiting Chicago is so much fun, you cannot go wrong!
AGTA Section – Booth #717
Tags: #smartjewelryshow, chicago, color gems, Gemstones
Posted in Learning Center, Shows | Comments Off on The Smart Jewelry Show 2014
---
Tuesday, November 19th, 2013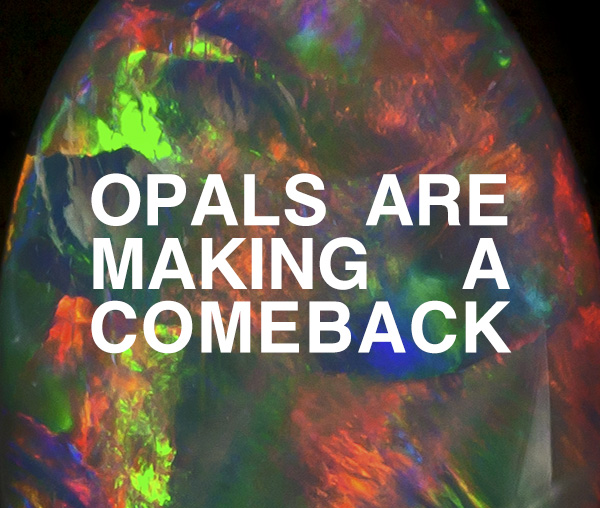 The AGTA Spectrum jewelry competition just celebrated their 30th anniversary. The amazing range of entries each year give a clear indication of what is at the forefront of fashion and style, establishing trends and setting the tone for the year to come. This year's selection included a beautiful range of pieces many featuring Opals as their main gemstone, including many varied combinations of other complimentary colored gems. A more playful approach was present in the designs, which highlighted the unique multicolored nature of opals.
We always recommend pulling out the blue, green and yellow's present in most opals with bright Tsavorite and Sapphires. Rich, vivid and bright gemstones like that truly complement the existing colors present in finer Opals.
Majestic Black Opals, fiery Crystal Opals and lava orange Mexican Fire Opals, multicolored flashy Ethiopian Opals are all wonderful points of inspiration in themselves, an amazing nature's painter's palette. Add a few accent stones and a beautiful frame of precious metal and presto! You have a masterpiece to offer your color loving audience. Check out our website for our beautiful offering of Opals and other gems.
Tags: agta, black opal, color gems, color gemstones, Gemstones, lightning ridge, mexican fire opal, spectrum awards 2014
Posted in Articles, Gemstones, What's New | Comments Off on Opals Are Making A Comeback
---
Monday, August 26th, 2013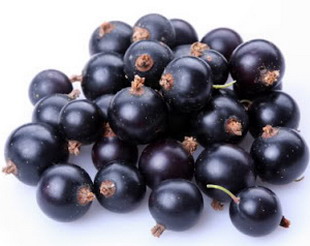 Designers are calling it autumn's deep and luxurious new neutral.  Prominent designer's runway collections have referred to it by; Midnight Violet, Black Plum and Deep Orchid.
 The next natural request from your fashion savvy consumers will be an offering of various colored gemstone jewelry in a similar palette of colors.  Besides the more obvious choice of Amethyst, suitable for larger pieces of jewelry, there are also Sapphires and Spinels that offer a wonderful range of purple violety rich magenta colors.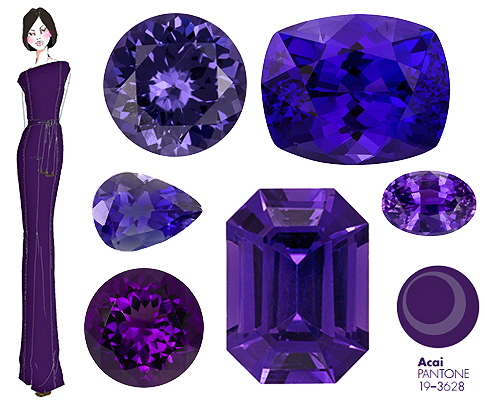 Both of these gemstones with very high hardness are ideal for high use rings as well as other pieces of jewelry.  Tanzanite's and Iolite's also offer these colors, when found in finer, richer shades. With so many hues of color, and price points to pick from it would be wise to have a range of pieces for your customers to view.  Our website with its many "true to life" pictures of our inventory is also a useful tool to help narrow down specific shades of purple, price points and gem materials.

Tags: acai, amethyst, color trends, designers, fall fashion color, gem 2000, gemsearch, Gemstones, iolite, pantone, plum, purple, sapphire, spinel, tanzanite, violet
Posted in Articles, Gemstones, Learning Center, What's New | Comments Off on A promising Fall Color: Açaí, The dark purple berry.
---
Wednesday, August 14th, 2013
It is always exciting to get beautiful new gemstones in, even when it means all the work of measuring, weighing, packaging, labeling, entering into inventory, and photographing. Many fresh Sapphire, Ruby, Emerald, Alexandrite, Tanzanite, Spinel, Zircon, and more are available and searchable now at GEM 2000. Take a look!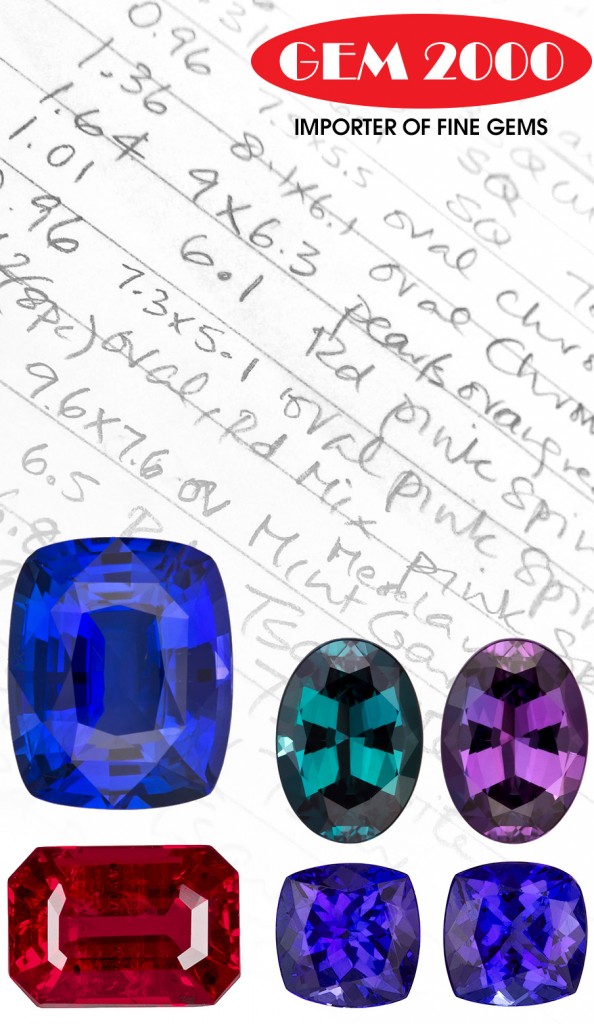 Tags: alexandrite, emerald, Gemstones, inventory, new gems, ruby, sapphire
Posted in Gemstones, What's New | Comments Off on Exciting New Gems
---
Wednesday, May 15th, 2013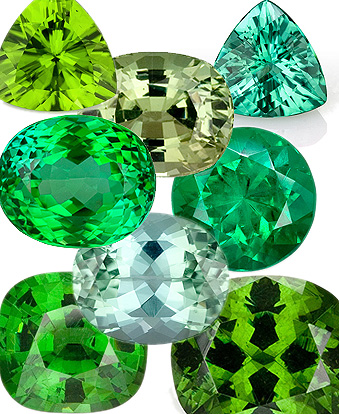 Bombarded by industry news and fashion publications, we are all well aware that the choice color of this year is, "Emerald Green".
The large varieties of colors available in the "GREEN" family are all equally appealing and desirable. Each of them offer different looks and price points to your fashion savvy customers. Gemstones such as Peridot, Tourmalines, Tsavorite, and Green Zircon are great choices besides the obvious coveted Emerald.
In general, lighter and brighter pieces seem to dominate the color palette in fashion and jewelry in a whole range of colors. Softer brighter shades of color seem to capture the mood of today's buyer the best, bringing a fun and easy spirit to a feminine yet playful look. Have fun mixing vibrant pastel colors together, or keep it simple with one color only accented with neutrals like diamonds or pearls.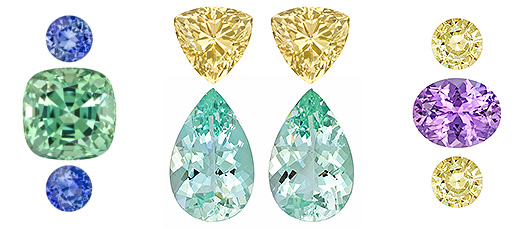 Tags: emerald, fashion, gems, Gemstones, green, pastel
Posted in Gemstones, Learning Center, What's New | Comments Off on Light & Bright
---
Thursday, January 17th, 2013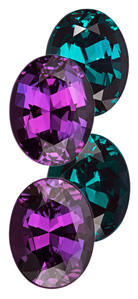 Unlike pairs of shoes or gloves or even diamond studs, perfectly matched pairs in colored gemstones are a difficult item to come by.  The easiest pairs to find are in commercial calibrated materials in more available gemstones like Amethyst, Citrine and Blue Topaz.  As you start to look at better quality finer colored gemstones, finding perfect matches becomes more of a challenge.
Often for a match to be possible, both stones have to be cut from the same parcel of rough and cut to match each other perfectly.  The main factors to keep in mind when looking at a matched pair are: body color, dimension and cut.  So, often even in a parcel of 10 or 15 stones of the same size, you might not be able to make up even a single pair.  Keep this fact in mind when buying gemstones, and know that it always pays to buy your add on piece at the same time, allowing you to offer a perfect set to your customer.  Most often it is impossible to find the right match of color later, particularly in more unusual, desirable and finer shades of colors.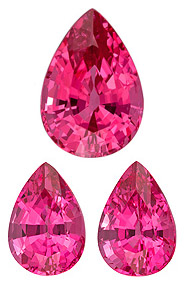 Be sure to mention that you are requesting a matched pair when talking to your supplier, as availability on them is so much less than singles stones.  Also, trying to match an existing stone can be very tricky and much harder than you can imagine, especially in the non commercial materials.
You truly only appreciate the rarity of fine matched pairs, when you have been in a situation of trying to match them.  We continue to carry an unusually large selection of matched pairs in our inventory and use very high standards in our matching requirements.  Please come by our booth or visit our website at www.gem2000.com.

Tags: color gems, color pairs rare, gem 2000, Gemstones, matched pairs, rare, rarity
Posted in Gemstones, Learning Center | Comments Off on Rarity of PAIRS
---
Friday, October 19th, 2012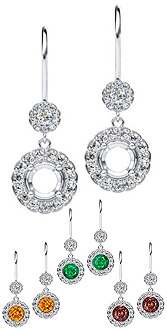 All numbers and forecasts indicate a stronger season this year so we at GEM 2000 are getting ready to help you with all your gem requests.  This includes having a strong inventory of gems on hand as well as giving you access to it through our strong website and search feature, allowing you to show great pictures of the gems with your own markups as prices to your customers.  Another service we can offer you is sending you a selection of gems to pick from, as you look at your various semi mounts that you know will sell, if mounted with the right center stone.
So decide on the sizes, colors and price points you want to see and then enjoy looking at gems at your own desk, deciding what works best in each of your mountings.  You can also see what shapes and colors of gems works best for your store and make sure you have  a few of these on hand to help you develop the market for custom work, which will set your store apart from other stores.  We are here to help you have a successful, and colorful season, so do not hesitate to look us up.

Tags: center stone, Christmas, color gems, Gemstones, holiday season, semi mount
Posted in Articles | Comments Off on Are you ready for the Season?
---