Posts Tagged 'color bridal'
Wednesday, July 27th, 2016
We carry an extensive range of colored gemstones, so this puts us in the frontline position for detecting new patterns and shifts in demand as they occur at retail. The newest and strongest trend at the moment is requests for bridal center stones in a variety of colored gemstones. The most popular is requests for sapphires in blues, peaches, pinks, yellows and all shades of purple. There are also requests for rubies, spinels,tourmalines … even aquamarines.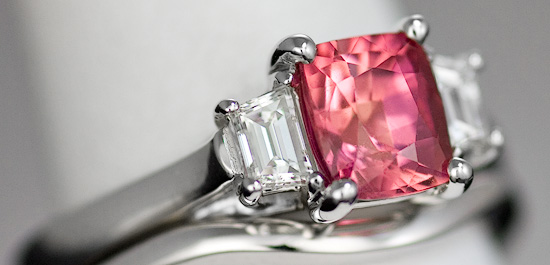 In an advisory role as a professional jeweler, we recommend that you steer away your customer from gemstones that fall short on the durability aspect, and are less than 7 ½ hardness on the Mohs scale. Those range of stones are suitable for occasional wear but since bridal jewelry gets the most beating of all, better spare the bride avoidable disappointment with her new ring.
If your sales people are not aware of this concept, it is best for them to be educated on the need to check the hardness of gems, before recommending or selling a particular gemstone for bridal wear. We are here to help you with appropriate choices. You can also visit our website for the wide range of specific gems available to you and your bride to be.
Tags: aqua, color bridal, color gems, durability, Gemstones, mohs, ruby, sapphire, spinel, tourmaline
Posted in Articles, Gemstones, Learning Center, What's New | Comments Off on Color In Bridal
---