Posts Tagged 'chrysoberyl'
Monday, August 6th, 2012
As a gemstone dealer who has chosen to inventory a large variety of gemstones, I am often asked about the durability and wear-ability of specific gemstones we carry. I try to answer this question by first asking:
"What piece of jewelry is this gem getting set in?"
Obviously a ring gemstone is a lot more exposed to getting knocked around than a pendant or earrings. If the answer is a ring, then I need to ask if the ring is a cocktail ring worn occasionally or an engagement ring that will be worn every day and will experience a lot more wear and tear.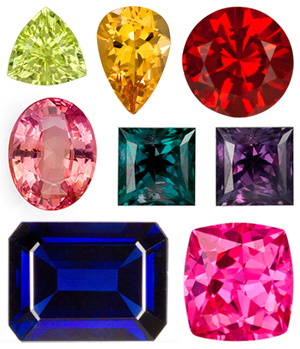 If it is an engagement stone, I recommend that they not go lower than an 8 on the Mohs' scale of hardness.
These gem varieties include: Ruby, Sapphire, Spinel, Alexandrite, Chrysoberyl and Topaz. Of course, gemstones with hardness of 6 1/2 and up are still very suitable for wear in rings, but not on an everyday basis. Softer stones than that, I highly recommend be worn in pendants, pins or earrings. Gems softer than a 4 should be cherished more as beautiful specimens to look at but maybe not mounted in jewelry.
Sharing this type of information with your customers will help them make informed gem purchases, suitable for their lifestyle and jewelry use.
Tags: alexandrite, chrysoberyl, gem durability, gemstone hardness, mohs, ruby, sapphire, spinel, topaz, wearability
Posted in Articles, Gemstones, Learning Center, Often Asked Questions | Comments Off on Wear-ability of Gems
---
Thursday, April 29th, 2010


As importers of fine colored stones in a large range of gems, we have noticed a significant increase in interest and demand for more unusual gems. Recently this interest has become even stronger. Gems such as Chrysoberyl, Spinels, fancy color Zircons, fancy color Sapphires, Apatites, and many more have proven to be very popular. We have also noticed a greater demand for finer pieces in less expensive materials which helps distinguish a piece of jewelry from a mass produced, mall store offering.
In the same line of thinking smaller finer gems in medium to more expensive materials are also in high demand allowing jewelers to offer affordable high quality pieces to their discriminating and better informed customers.
Tags: apatite, chrysoberyl, color, fancy, gem 2000, gems, Gemstones, sapphire, spinel, unusual, zircon
Posted in Gemstones, Learning Center, What's New | Comments Off on The Unusuals Have Become Popular
---
Friday, November 20th, 2009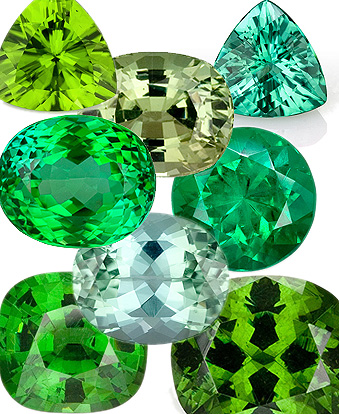 As we approach the month where most jewelers report, accounts for more than 30% of their yearly sales, it is important to be aware of what is "desired" this season. Based on fashion and industry reports "green" is in. Green, with all its wonderful and various shades, from forest to moss to lemon. Our extensive range of colored gems in green includes: Emeralds, Tsavorites, Chrome Tourmalines, amazing varied hues of Tourmaline, Peridots, green Zircons, and lemony Chrysoberyls. This great range and variety of gems is sure to please all tastes and budgets. Make sure to offer some "green" to your customers this season.
Tags: chrome tourmaline, chrysoberyl, color, emerald, Gemstones, green, moss, peridot, tourmaline, tsavorite, zircon
Posted in Learning Center | Comments Off on Green is In
---