Posts Tagged 'blue'
Wednesday, July 27th, 2016
Spinel Ascending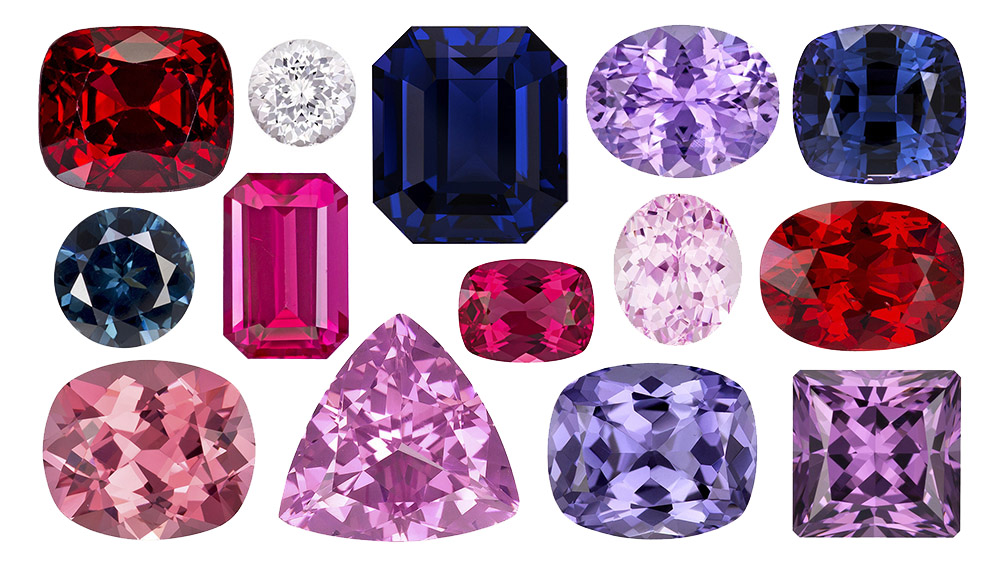 A trend strengthening over the last two years: young couples getting engaged truly wish to have something unique and different from everyone else. This desire translates to wanting a color stone over a diamond as their engagement ring. When choosing a colored gem for bridal wear, durability becomes very important and we recommend that it be no lower than 8 on the Moh's scale, as it will be worn everyday and softer stones easily abrade over time. Following Corundum, Spinel offers the best range of colors to choose from. Also, just last month, Spinel was announced as an alternative August birthstone!


Stop by our website for our beautiful offering fine gem Spinels!
Tags: august, birthstone, blue, color gemstones, engagement, jewelery, peach, pink, purple, red, ring, spinel
Posted in Gemstones, Learning Center, What's New | Comments Off on Spinel Ascending
---
Thursday, May 16th, 2013
With a very high Refractive Index and a dispersion rivaling that of diamonds, Zircons can truly dazzle the eye with their life and brilliance. Of course, the cut, clarity and even the color of the stone all play a huge role in the degree of fire they exhibit.

Most consumers are familiar with Blue Zircons, as they are the December birthstone and found in many pieces of jewelry, mostly of commercial quality. All Blue Zircons are mined in Cambodia, with finer qualities exhibiting stunning rich blue colors, worthy of being labeled "gem" by any standard.
In recent years, new finds of fancy color Zircons from Tanzania, Madagascar and Sri Lanka have added a whole range of exotic and exciting new colors to the Zircon family. Earth tones ranging from brown, honey, rose, yellow, goldens and greens are truly uncommon and exciting new shades not previously available to a designer's color palette. Their price points in larger sizes are also much lower than the Blue Zircons, allowing for very impressive looking larger looks at very reasonable price points. These fancy colors also look great in yellow and rose gold as well as in white metals.
Very diamond looking, very unique, high quality and a great value; these are all factors that combine to make each of these pieces extremely desirable and very sellable. Blue Zircons are a proven popular staple and offering fine colors in them will truly delight its existing loyal fan base.
Make sure to come by our booth and see what colors will appeal to you most, allowing you to offer impressive pieces for modest budgets. You can also browse over our website for the choices available to you.
Tags: blue, brilliance, brown. yellow, fancy, red, zircon
Posted in Gemstones, Learning Center | Comments Off on Zircons: What is your fancy?
---
Thursday, November 18th, 2010
Being the November birthstone, Topaz has enjoyed long-time recognition and demand. When the inexpensive irradiated blue colored Topaz was introduced in to the market, it allowed the masses to own very affordable pieces of jewelry with Topaz. Since then other treatments such as coatings have allowed more variety of colors available for low priced commercial pieces of jewelry.
Precious Topaz has always remained strong in its own category, consistently known as being a "gem". Under the heading of Precious Topaz, you will find colors ranging from a light yellow to gold, to golden peach. The intense peachy pinks or sherry colors are given an increased distinction and acknowledgement of their rarity by being called Imperial Topaz. Super rare and expensive, they occasionally exhibit shades of strawberry red. Pink Topaz are not as common and come in soft pastel shades up to intense medium pinks in the super fine materials. Price per carat is directly based on the shade of color of the Topaz and how much peach and pink it exhibits.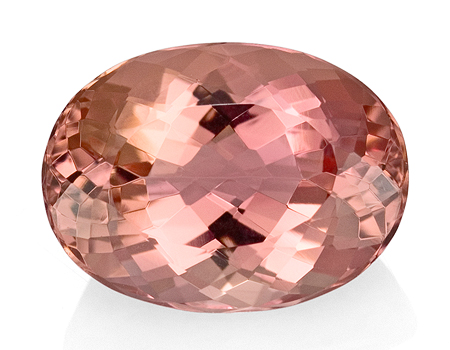 Though the fine gems are wonderful to admire and marvel at, there truly is a range of price on this gem, making them extremely accessible to all your customers regardless of budget. And yes, there always is blue Topaz as a last resort for price.
Familiarize yourself with these choices, so you can service this request when it walks into your store. Our web search is a great tool for this overview.
Tags: blue, columbus jewelry show, gem, gem 2000, gemstone, Gemstones, golden, imperial, irradiated, peach, precious, sherry, topaz, trade show
Posted in Articles, Gemstones, Learning Center, What's New | Comments Off on A Topaz for Every Taste
---