Posts Tagged 'agta'
Wednesday, July 27th, 2016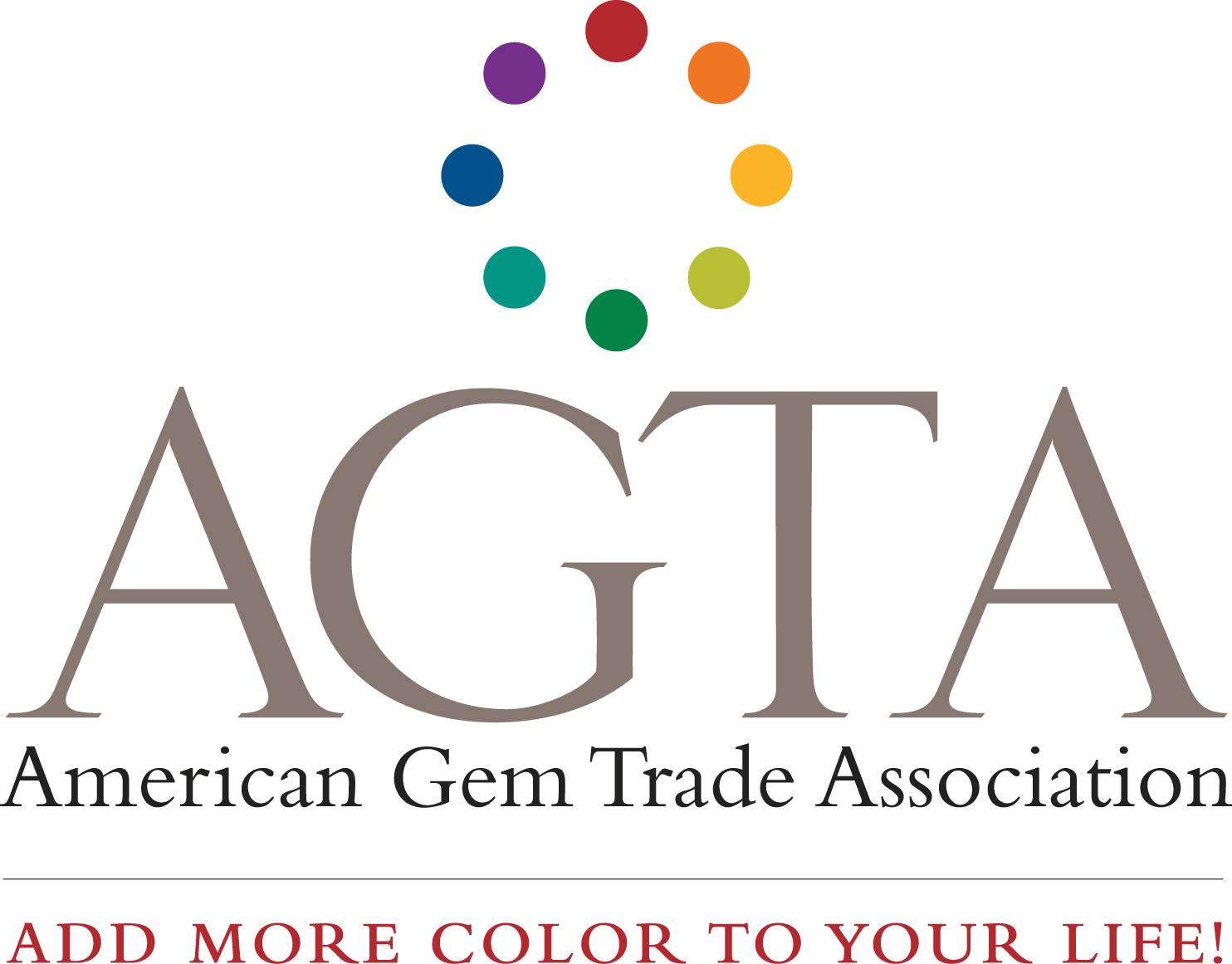 2016 Summer AGTA Spectrum Winners
Tags: agta, awards, color, Gemstones, jewelry, Spectrum
Posted in Articles, Gemstones, What's New | Comments Off on Congratulations to all the 2016 Summer AGTA Spectrum winners!
---
Tuesday, November 19th, 2013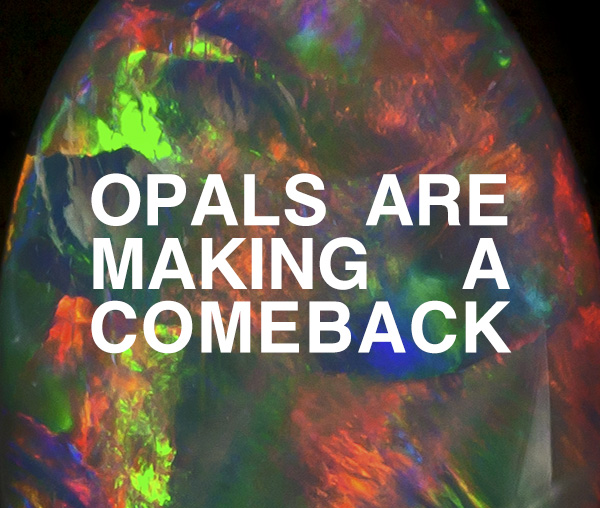 The AGTA Spectrum jewelry competition just celebrated their 30th anniversary. The amazing range of entries each year give a clear indication of what is at the forefront of fashion and style, establishing trends and setting the tone for the year to come. This year's selection included a beautiful range of pieces many featuring Opals as their main gemstone, including many varied combinations of other complimentary colored gems. A more playful approach was present in the designs, which highlighted the unique multicolored nature of opals.
We always recommend pulling out the blue, green and yellow's present in most opals with bright Tsavorite and Sapphires. Rich, vivid and bright gemstones like that truly complement the existing colors present in finer Opals.
Majestic Black Opals, fiery Crystal Opals and lava orange Mexican Fire Opals, multicolored flashy Ethiopian Opals are all wonderful points of inspiration in themselves, an amazing nature's painter's palette. Add a few accent stones and a beautiful frame of precious metal and presto! You have a masterpiece to offer your color loving audience. Check out our website for our beautiful offering of Opals and other gems.
Tags: agta, black opal, color gems, color gemstones, Gemstones, lightning ridge, mexican fire opal, spectrum awards 2014
Posted in Articles, Gemstones, What's New | Comments Off on Opals Are Making A Comeback
---
Tuesday, May 14th, 2013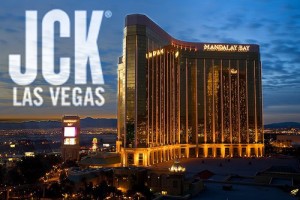 All across the jewelry industry, all around the world, increased activity is taking place in preparation for this upcoming landmark annual show.
The excitement level in our office has been building as we get closer to this much anticipated date. Sorting new parcels of recently acquired gems, preparing them for displays, and going over all the last minute details that never gets old or routine, even after all the years of exhibiting.
We are sure that you as buyers are also going through your own mental "to do list", ensuring efficiency and success on your trip. Each year we see buyers getting more organized and systematic in tackling these shows. With so many vendors at your fingertips and the long list of tasks you have to accomplish in a short few days, being prepared ahead of time makes the world of difference. Detailed to do lists, including sizes, dimensions, pictures and actual mountings to fit stones in, are among the most helpful aid. Bring extra business cards to give to new suppliers you meet, a pocket size floor plan of the show for reference or download the app available for your smart phone. Comfortable shoes are a must and staying hydrated keeps you alert and functioning.

We have a wonderful selection of fine gems in a large variety of shapes and sizes. Please come by and visit us at AGTA Booth 622. You can also visit our website at any time when searching for specific gems, or just to browse.
Tags: agta, gem show, gemfair, jck 2013, jck las vegas
Posted in Articles, Gemstones, Shows | Comments Off on JCK 2013
---
Wednesday, March 27th, 2013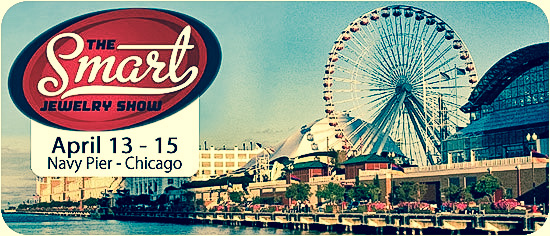 This vibrant larger Regional Show has definitely carved its own niche in the "must attend" list of industry events. Each year the coming of spring signals that Chicago is not far away and the excitement starts to build. With a great range of services, classes and exhibitors, the Smart Show covers a lot of ground, offering content and variety to just about anyone working in the jewelry industry. It also goes without mentioning that Chicago itself is an exciting and vibrant city with tons to offer its many visitors.

We are happy to be exhibiting at this show, as part of the larger AGTA section. We have a great selection of beautiful color gemstones to offer, at all price points and budgets. Please stop by our booth to view our latest selection or if not coming browse our inventory online. Looking forward to seeing you there.
Tags: agta, chicago, smart show 2103, trade show
Posted in Shows | Comments Off on Smart Show Chicago 2013
---
Thursday, April 5th, 2012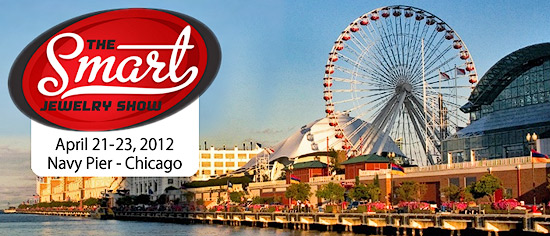 This year the Smart Show in Chicago has moved it's date to later ones in April, that is April 21 – April 23. All this means is better weather in Chicago for all of us! allowing us to better enjoy this vibrant, beautiful city and all the great things it has to offer its many visitors.
Over the past few years, the Smart Show has been able to establish itself as an important regional show, drawing buyers from all over the country, well outside just driving distances. It draws an impressive list of vendors nothing short of other major industry shows. The AGTA also has a dedicated pavilion offering an assortment of colored stones and pearls, allowing for confident buying from reputable sources, easy to reach throughout the year.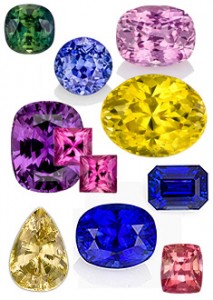 We have been very busy getting an amazing selection of color gemstonesready for this show. The huge range of materials and price points allows for great value buying at any budget. Our show volume discount program is a great way of saving big, allowing you to cross all your "must have" items off your gemstone list, at one stop.
Having just had a great show in Tucson 2012, we are expecting a very good turnout of buyers, ready to replenish their dwindling store stock, in response to the pent up demand of the returning customers this year.
So, come by and visit us at the show!
Tags: 2012 smart show, agta, booth 717, color gemstones, jewelry, navy pier, smart show chicago
Posted in Articles, Shows | Comments Off on The Smart Show Chicago 2012
---
Wednesday, February 29th, 2012

Year after year, how the Tucson Show performs, sets the general tone for our industry as to the rest of the year's business outlook. We are happy to share that it is a very positive one for 2012. The number of buyers was not necessarily higher this year, but whoever had shown up was serious about taking care of their buying needs.  Buyers were more set on their specific wants and requirements, but more open to making the purchase when seeing the right merchandise. There was still a lot of shopping around going on, but then that is the fun of being in Tucson. Quality goods are scarcer than before, with the highest noticeable price increases, so savvy buyers knew to grab a good deal on higher quality stones when they saw it!
Not surprisingly, our biggest sellers were our blue and fancy color sapphires, followed closely by a spattering of a range of finer pieces in Spinel, Tourmaline, Zircon, Aquamarine, and Tsavorite.
More jewelers have come to realize that to stand out from the crowd, especially big box stores, and still keep good margins, focusing on custom pieces in finer colored gems is the best way to expand and grow.

We are here to help you do that, all year around with our great service and memo option, so convenient and easy with our great website and gem search feature. This allows you to show pictures of gems with your own markup for prices. It is like having our whole inventory of fine gems on your countertop.
Consumers are back pursuing their differed jewelry wants, and you should be ready to offer them options, quality, and value.
Tags: agta, color gems, gem 2000, good show, sapphire, tucson gem show
Posted in Articles, Gemstones, Shows | Comments Off on Promising Beginnings
---
Tuesday, December 13th, 2011
Attending this amazing, world renowned tradeshow is a must for all in the jewelry trade. It is an immersion course in all that is "gem". As diamonds become more of a commodity, "colored gemstones" is an area that shows more promise of a profit when backed by expertise and diligence. Attending this show is truly rewarding in so many ways. Unlike other cities, Tucson's hotels fill up fast, so make sure you are registered and have a place to stay well ahead of time. We have started our own preparations already and wish to remind all of you that it is not too early!!
Attending the AGTA Show also offers you the added benefit of developing enduring relationships with dealers who can service your calls throughout the year, when you need the gems that turn calls into sales, shipped to your store right away!
We will be offering a great selection of beautiful gems in a variety of price points and colors.

Please stop by early and select your beauties
from what we all have to offer
AGTA GemFair Pavilion
Tucson Convention Center
Booth 911
Tags: 2012, agta, gemfair, tucson
Posted in Articles, Shows, What's New | Comments Off on Plan now for Tucson 2012
---
Tuesday, July 19th, 2011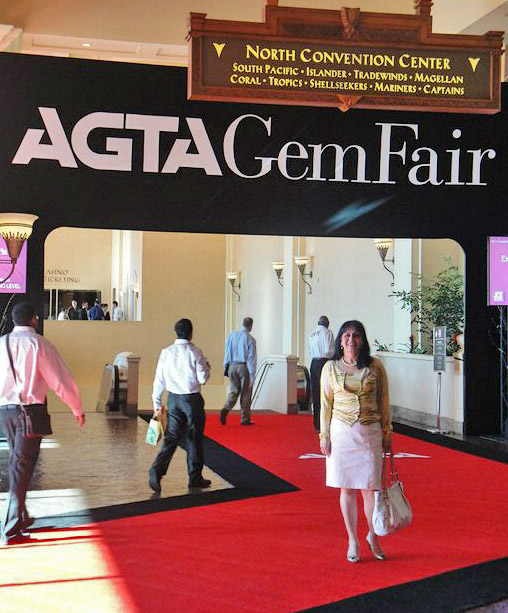 By now you might have read the updates on the June JCK Las Vegas show in a variety of publications and come to know that it proved to be a strong show with a good turnout of buyers, ready to do business. The change of venue for the show was something everyone had to deal with, and I found many buyers a little frustrated trying to figure out where everything was. Almost like walking into a new grocery store and trying to figure out the new layout, finding the most efficient route to all the items on your shopping list. Mandalay Bay was trying to help with this process and all show people in charge were making notes on what needed to be improved and changed for next year. I have a feeling that by next show, buyers will feel more familiar with the floor plans, and despite this new location being a little isolated on The Strip, will not be complaining further.
We actually got many remarks from buyers that the AGTA Pavilions by far were the easiest to walk through and locate exhibitors in at the whole show.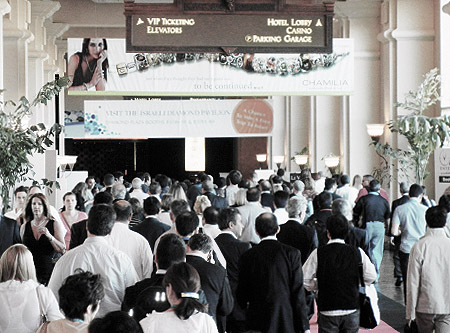 We saw a larger turnout of overseas wholesale buyers, taking advantage of the still lower prices on old stock US dealers still had in their booths.
Because of the large range of gemstones we carry, it's hard to decide what we sold the most of, but the trend was more of our larger finer quality pieces, and hard to find gem quality smaller sizes. Sapphires, Rubies, Alexandrites, Tourmalines, Spinels, Aquamarines, Zircons, and Peridots were all on the invoices we wrote at the show.
Due to the present ongoing increase of price in the world gem markets, every time we sold a fine quality gem, we knew that replacing it will probably cost us more than what we just sold it for. But as long time dealers who have gone through many similar cycles before, and we know that there will always be value in owning the finest gems, when buying.
Tags: 2011, agta, gem 2000, gemfair, Gemstones, jck, las vegas, mandalay bay
Posted in Shows | Comments Off on JCK Review
---
Thursday, March 3rd, 2011
Besides being one of the coldest Tucsons to date, the AGTA Show itself was upbeat and energetic. Buyers had more of a spring in their step this year and actively seeking to add fresh goods to their inventory. Most everyone was feeling the atmosphere of business becoming more normalized and in the upswing mode. I heard repeated comments from buyers about not being as in touch with current prices since they had really not bought much in a couple of years. Finer better gems were still in the highest demand but well cut bright unusual gems in lower price points were also seen as a good price point item allowing for higher profit margins. In general I found buyers more open to buying special, beautiful gems as opposed to just trying to find specific sized gems that fit certain mountings. As usual stores who had invested in offering the unique and unusual custom pieces were satisfied and working hard on improving their range of offerings, allowing them to keep ahead of the curve.
It had started to warm up the day the show was ending with many buyers and exhibitors returning to much ice and snow, wishing they could have stayed on to enjoy the wonderful desert sun.
Tags: 2011, agta, gemfair, tucson
Posted in Shows | Comments Off on Tucson Update 2011
---
Tuesday, January 18th, 2011
There is always an "In" color of the year. Enjoy reading this article published in ePrism by AGTA.
"Reddish Pink" has been the color chosen to represent 2011.

That whole family of hues, looking at our inventory, can be found mostly in Kunzite, Tourmalines, Morganite, Spinels, Rhodolite Garnets, Sapphires and Precious Topaz.
Blue and Green gems are consistent and basic sellers, a true must have. Our family of blues include Aquamarines, Tourmalines, Sapphires, Iolite, Blue Zircons, and Tanzanite.

In the green family we offer Emerald, Tourmaline, Tsavorite, Chrome Tourmaline, Peridot and Green Zircon.

We also offer a great range of earth tone colors in our Zircons ranging from honey to coffee.

Take a look online or at our booth in the AGTA GemFair Pavilion in Tucson at what we offer and make sure you are ready to sell the savvy and fashion conscious customer who walks into your store.
Tags: 2011 color, agta, color gemstones, eprism, fashion, gem 2000, in color, sales, stock gemstones
Posted in Articles, Gemstones, Learning Center, What's New | Comments Off on Which Colors to Stock
---