Posts Tagged 'ags conclave'
Tuesday, May 20th, 2014
This year AGS was celebrating its 80th anniversary in great style at the Conclave held in the beautiful Del Coronado Hotel in San Diego, California. Besides its charming location by the beach, the AGS team, with the help of the many industry sponsors, had come up with an amazing array of speakers to help motivate and educate the record number of attendees at the event.
Impossible to cover everything that was said, we would like to just share some highlights of some of these presentations for the benefit of all who were not there.
Magic Johnson – An amazing businessman and entrepreneur, he enchanted everyone with his genuine warmth and honesty. "It is not whether you can be successful; it's how many people you can help make successful." "You are in business to win, but you need to do things the right way." "There are no shortcuts to being successful, believe in over-delivering." "If you don't dream it, you can't achieve it, commitment to what you do is vital." These were some of his principles that have helped him achieve the success he has.
Peter Sheahan – A world renowned speaker, he touched on exploiting business trends and new market opportunities, emphasizing the need to be open to change and adapting fast so not to be left behind, really focusing on developing your brand, small steps at a time. The example he shared here was Burberry, and the essential need for filling a niche in the overall market, as an ongoing strategy.
Erik Wahl – A talented graffiti speed drawing artist, author and entrepreneur, he spell bound the audience with art creations, touching on the existing fear within each one of us to try something new, he encouraged us to tap into our inner child when it comes to creativity and imagination, to help us think outside the box and innovate; a truly unique insight much lacking in today's corporate environments.
Bryan Dodge – A very expressive and entertaining speaker, he touched on success habits and leader principles. Very emotional in his expressions when sharing life examples, his main focus remained on "being real and truly caring."
A few of the other sessions worth noting were:
Red carpet exposure – The power of celebrity by Erica Courtney
She was giving real examples of how to incorporate this power at a community level and mutually benefitting from the media buzz your store can create from it.
How to run a colored stone roundtable by Sherris Cottier Shank
She shared her own experience on how to best set up and run a roundtable for maximum effect. It is a great way to excite your customers about the world of colored gems in a comfortable environment with a full hands on sensory experience, opening up a whole new avenue of sales. She also shared that she was offering her know how to any store who was interested.
The AGS fashion show and the 80's dinner dance were both very fun and entertaining and it did not hurt having a beautiful full ocean view from the main meeting hall at all times. Looking forward to next year's Conclave in New Orleans.
Tags: ags conclave, Bryan Dodge, Del Coronado Hotel, eric wahl, erica courtney, magic johnson, Peter Sheahan, san diego, Sherris Cottier Shank
Posted in Gemstones, Learning Center, What's New | Comments Off on AGS Conclave 2014
---
Thursday, May 16th, 2013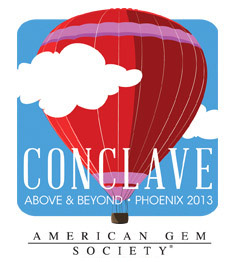 Attending the recent AGS conclave in Phoenix as registered suppliers, we were constantly reminded by all the various presenters how important it is for jewelry stores to train and empower their sales staff. They are the face of your company and frankly determine whether you can sell or not.
This thought is also emphasized by this quote recently published in the Rapaport/Trade Wire by Janet Novack/Forbes,
"Traditional bricks-and-mortar retailers squander their immediacy edge with indifferent/uninformed sales help, who look even worse when compared to this information now available on the web. But they can do well if they integrate their online and in-store services, carry enough inventory and price competitivity."
Being at the receiving end of color stones orders from the sales floor, we have noticed that except for some very knowledgeable store owners handling these orders themselves, most other staff members could truly benefit from increased knowledge on colored stones. AGTA, the leading authority on color, offers some very in depth and informational online education regarding color stones to its members.
As longtime AGTA members, we would like to encourage you to join and take advantage of this excellent available resource to educate your staff on color. By maximizing your sales potential you will recoup its cost in a single transaction not possible before. Empower your staff with knowledge on color gems and ensure your share of this growing market. Also, feel free to use our website for real life availability of gems and pricing information.
Tags: ags conclave, agta education, color gems, knowledge, online
Posted in Learning Center, Often Asked Questions, What's New | Comments Off on Knowledge leads to sales
---