Archive for the 'Learning Center' Category
Friday, October 5th, 2018
Emerald
With a history going back thousands of years, Emeralds have remained among the topmost desired gems throughout the ages. No other gem comes close in color to the vibrant range of greens found in Emeralds from all the majors sources; Colombia, Zambia, and Brazil. Emeralds have also been found and in smaller pockets in Russia, Pakistan, Ethiopia and other locales. In general, the color range in Emeralds varies based on the region, but fine vivid greens are hard to find regardless of source. Besides color, clarity is very much a determining factor of price and availability, since pretty much all Emerald have some level of inner-inclusions, known as "gardens". Finding stones that have the right balance of color, clarity and life at each price point is a continuous challenge when we are buying.
Presently, we have handpicked a great selection of stones in very sellable sizes, which truly offer a quality perfect for presenting to your customers who want a special stone to design their own piece with. Remember as you search through our inventory that Emeralds are one of the hardest stones to photograph, and they always look much better in person.
---
Featured Stone: Emerald

A vivid medium rich green, with excellent clarity, cut and life, this Colombian looker is a gorgeous gem. A hard to find shape, with high color, very bright and lively.
Tags: emerald
Posted in Articles, Gemstones, Learning Center | Comments Off on Emeralds
---
Wednesday, July 27th, 2016
Spinel Ascending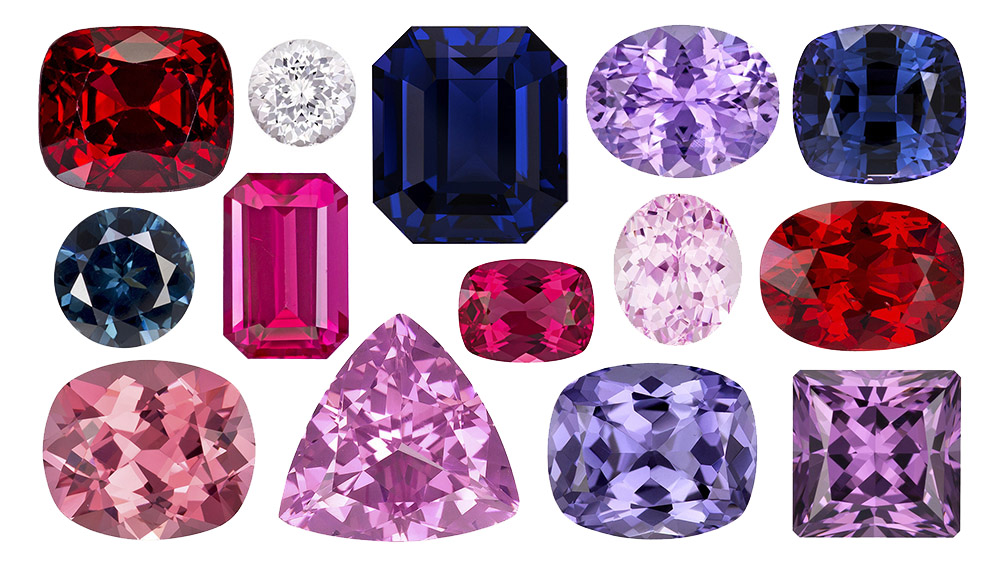 A trend strengthening over the last two years: young couples getting engaged truly wish to have something unique and different from everyone else. This desire translates to wanting a color stone over a diamond as their engagement ring. When choosing a colored gem for bridal wear, durability becomes very important and we recommend that it be no lower than 8 on the Moh's scale, as it will be worn everyday and softer stones easily abrade over time. Following Corundum, Spinel offers the best range of colors to choose from. Also, just last month, Spinel was announced as an alternative August birthstone!


Stop by our website for our beautiful offering fine gem Spinels!
Tags: august, birthstone, blue, color gemstones, engagement, jewelery, peach, pink, purple, red, ring, spinel
Posted in Gemstones, Learning Center, What's New | Comments Off on Spinel Ascending
---
Wednesday, July 27th, 2016
Merelani Mint Garnet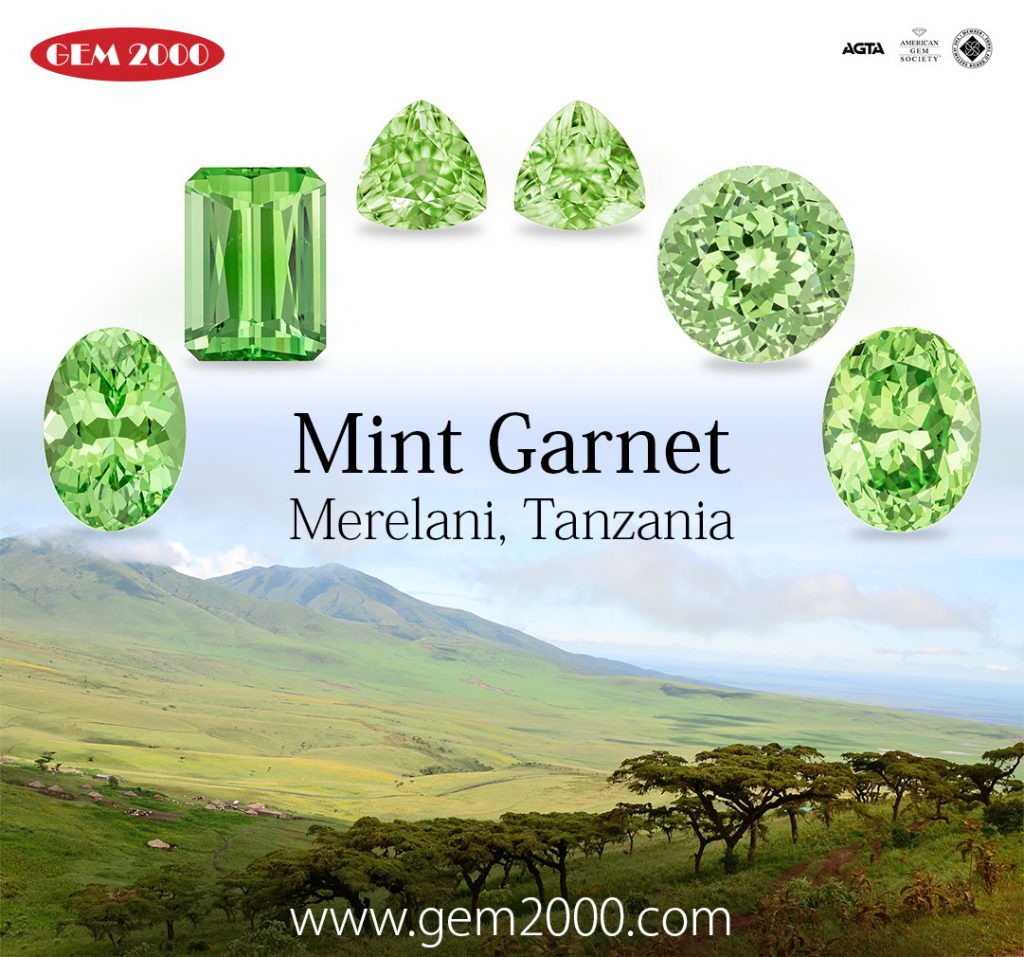 Beautiful and lively mint green grossular garnets have been coming out of the Tanzanian mining area of Merelani for many years now, but not everyone realizes how challenging a task it is to find clean saturated stones , especially in larger sizes. As with its more saturated sibling Tsavorite, clean stones above 1 – 2 carats are very rare, particularly in nicely saturated mint colors; a great value compared to Tsavorites of the same size.
Untreated and natural with a Mohs hardness of 7.5, Mint Garnet is perfect for any type of jewelry, and will radiate its cool and refreshing mint green color forever. Perfect for todays trends of light and bright colored gemstone designs.
Visit our website to find one of these lively gems for yourself!
www.gem2000.com/mintgarnet
Tags: color gemstones, garnet, gem 2000, gems, green garnet, grossular, jewwelry, merelani, mint garnet, tanzania, tsavorite
Posted in Gemstones, Learning Center | Comments Off on Merelani Mint Garnet
---
Wednesday, July 27th, 2016
We carry an extensive range of colored gemstones, so this puts us in the frontline position for detecting new patterns and shifts in demand as they occur at retail. The newest and strongest trend at the moment is requests for bridal center stones in a variety of colored gemstones. The most popular is requests for sapphires in blues, peaches, pinks, yellows and all shades of purple. There are also requests for rubies, spinels,tourmalines … even aquamarines.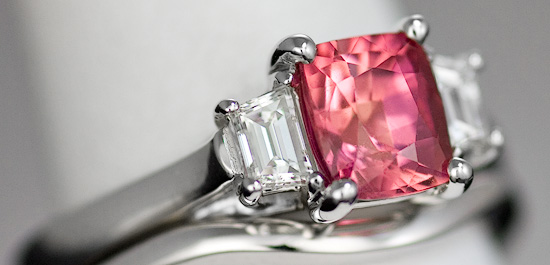 In an advisory role as a professional jeweler, we recommend that you steer away your customer from gemstones that fall short on the durability aspect, and are less than 7 ½ hardness on the Mohs scale. Those range of stones are suitable for occasional wear but since bridal jewelry gets the most beating of all, better spare the bride avoidable disappointment with her new ring.
If your sales people are not aware of this concept, it is best for them to be educated on the need to check the hardness of gems, before recommending or selling a particular gemstone for bridal wear. We are here to help you with appropriate choices. You can also visit our website for the wide range of specific gems available to you and your bride to be.
Tags: aqua, color bridal, color gems, durability, Gemstones, mohs, ruby, sapphire, spinel, tourmaline
Posted in Articles, Gemstones, Learning Center, What's New | Comments Off on Color In Bridal
---
Tuesday, August 19th, 2014

"Beauty is in the eye of the beholder"
This saying reminds us that personal taste ultimately determines this preference. That being said, there are different market prices for specific shades of colors based on availability and current market demands. At any given time, there is a general market consensus on what are the most preferred or desired shades of color worldwide closely linked to rarity;
Here are some general pointers to help you pick these shades of color:
Learn to distinguish the type of secondary colors present in the stone you are looking at, in order to determine if they are desirable ones.
Grays and browns are secondary colors to avoid in most gemstones, signaling de-saturated colors i.e.; think of spinels where finding vivid pure colors are difficult.
Pure, vivid colors are the most desired, whether in lighter or darker shades. How pure or vivid the pink or blue in the sapphire is, has the most effect on the stone's visual appeal and price.
Some secondary colors are very acceptable and actually indicate origin of gemstone i.e.: violet blue in Ceylon Sapphire, pinkish red in Burma Ruby, and the different proportion of yellow or blue found in the green of Emerald, indicating Zambian or Colombian.
It always helps to have a master stone for comparison purposes. It is very difficult to remember color, even for seasoned buyers.
Gemstones with lighter body colors, like aquamarine or tanzanite are very hard to find in saturated (rich) colors, specifically in smaller sizes. For example, it would be extremely rare to find the color of a 10-carat fine tanzanite in a 1-carat stone.
Stay away from over dark colors as it becomes very hard to see the vibrancy of the gem. Determining the difference between rich fine color and over dark colors, is best mastered by observing many gems and constantly training your eye.
Be mindful of the tradeoff between saturation of color and life of the stone. These decisions can amount to thousands of dollars when looking at Rubies, Emeralds and Sapphire. You have to decide on the best combination of factors you wish present in the stone at any given price point, since the sky is the limit when it comes to perfection.
Each species of gem has its own specific range of colors it comes in. The more gems you look at, the more your eye will get trained to pick up on these nuances of color. Take advantage of trade shows to familiarize yourself with these ranges.
Light and bright is really in demand right now and vivid, neony, minty colors have a lot of appeal in current color pallets. These colors are found in Aquamarine, Afghan Tourmaline, Merelani Mint Garnet, Mahenge Spinels, Kunzite, Morganite, Chrysoberyl and more…
Of course, the term fancy color can get attached to many varieties of gemstones to indicate unusual shades of colors. You can pick up some good deals in this category if you have a good sense of design, color combining and offering unique and one of a kind items. You still want to make sure these gems are clean, well cut and bright.
Feel free to use our great website to browse through and familiarize yourself and your sales staff with available choices of fine color. Our website is a fantastic tool that enables your staff to make well-informed color recommendations. This education allows you to reach a large untapped market; people who love color!
Tags: color gems, color gemstones, preferred shades
Posted in Articles, Gemstones, Learning Center, What's New | Comments Off on "Preferred Shades" in Color Gemstones
---
Tuesday, May 20th, 2014
This year AGS was celebrating its 80th anniversary in great style at the Conclave held in the beautiful Del Coronado Hotel in San Diego, California. Besides its charming location by the beach, the AGS team, with the help of the many industry sponsors, had come up with an amazing array of speakers to help motivate and educate the record number of attendees at the event.
Impossible to cover everything that was said, we would like to just share some highlights of some of these presentations for the benefit of all who were not there.
Magic Johnson – An amazing businessman and entrepreneur, he enchanted everyone with his genuine warmth and honesty. "It is not whether you can be successful; it's how many people you can help make successful." "You are in business to win, but you need to do things the right way." "There are no shortcuts to being successful, believe in over-delivering." "If you don't dream it, you can't achieve it, commitment to what you do is vital." These were some of his principles that have helped him achieve the success he has.
Peter Sheahan – A world renowned speaker, he touched on exploiting business trends and new market opportunities, emphasizing the need to be open to change and adapting fast so not to be left behind, really focusing on developing your brand, small steps at a time. The example he shared here was Burberry, and the essential need for filling a niche in the overall market, as an ongoing strategy.
Erik Wahl – A talented graffiti speed drawing artist, author and entrepreneur, he spell bound the audience with art creations, touching on the existing fear within each one of us to try something new, he encouraged us to tap into our inner child when it comes to creativity and imagination, to help us think outside the box and innovate; a truly unique insight much lacking in today's corporate environments.
Bryan Dodge – A very expressive and entertaining speaker, he touched on success habits and leader principles. Very emotional in his expressions when sharing life examples, his main focus remained on "being real and truly caring."
A few of the other sessions worth noting were:
Red carpet exposure – The power of celebrity by Erica Courtney
She was giving real examples of how to incorporate this power at a community level and mutually benefitting from the media buzz your store can create from it.
How to run a colored stone roundtable by Sherris Cottier Shank
She shared her own experience on how to best set up and run a roundtable for maximum effect. It is a great way to excite your customers about the world of colored gems in a comfortable environment with a full hands on sensory experience, opening up a whole new avenue of sales. She also shared that she was offering her know how to any store who was interested.
The AGS fashion show and the 80's dinner dance were both very fun and entertaining and it did not hurt having a beautiful full ocean view from the main meeting hall at all times. Looking forward to next year's Conclave in New Orleans.
Tags: ags conclave, Bryan Dodge, Del Coronado Hotel, eric wahl, erica courtney, magic johnson, Peter Sheahan, san diego, Sherris Cottier Shank
Posted in Gemstones, Learning Center, What's New | Comments Off on AGS Conclave 2014
---
Tuesday, March 25th, 2014

Whether at trade shows, or directly sent or brought to our office, we encounter many pieces of used jewelry with missing or broken stones.
We are then asked to match the existing stones with what needs replaced. Most of the time these pieces of jewelry have been well used with a heavy buildup of soap residue and grime on the gemstones, making it very difficult to decide on the color and clarity of the stone in the piece. Make sure to CLEAN each piece of jewelry to the highest degree possible, BEFORE trying to match the replacement stones. Chances are the equipment you have in your store for cleaning jewelry will not be present at a loose gem dealer's office, so it is better to clean the jewelry before the gem dealer sees them.
It is already hard to match used and often abraded stones in a piece with new stones, but this way you will at least get the best color match possible.
Tags: cleaning, color match, gems, gmestone matching, jewelry, matched pairs, take-in, wash
Posted in Articles, Learning Center | Comments Off on "Matching" Tip on Take-In Jewelry
---
Monday, March 24th, 2014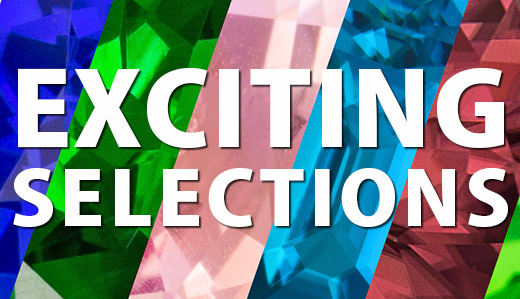 Our love and appreciation for fine color has led us to carry one of the most diverse inventories of color gemstones, constantly changing and evolving. Taking a quick mental snapshot of what we carry at present, these are a few areas we are particularly strong in:
Unheated Sapphires:
Great clarity and cut in better colors of blue in much requested smaller sizes up to larger single stones. This also includes yellows and pink Sapphires.

Blue and Fancy Color Sapphires:
Despite the ongoing scarcity of supply and increasing prices at the source, we continue to have an extensive inventory of fine blues, many excellent matched pairs, as well as yellows, pinks, purples, peaches and other shades of color.

Chrome Tourmaline:


We are excited about our recent purchase of a few larger chromes, which are very hard to find in better colors.
Tsavorites:
Great selection of top color stones in very salable sizes, super clean, well cut and bright with many matched pairs.

Zircon, Blue and Fancy:
Fine saturated blues in very well cut stones up to larger sizes, many excellent matched pairs. A huge range of size and shades of color in green, honey, brown, rose and yellow Zircons, excellent selection.

Of course, these are only some of the types of gemstones we carry. Feel free to browse our website, which also offers a very useful search option to help you fill your requests.
Tags: chrome tourmaline, color gemstones, sapphire, tsavorite, unheated sapphire, zircon
Posted in Articles, Gemstones, Learning Center, What's New | Comments Off on Exciting Selections
---
Tuesday, March 18th, 2014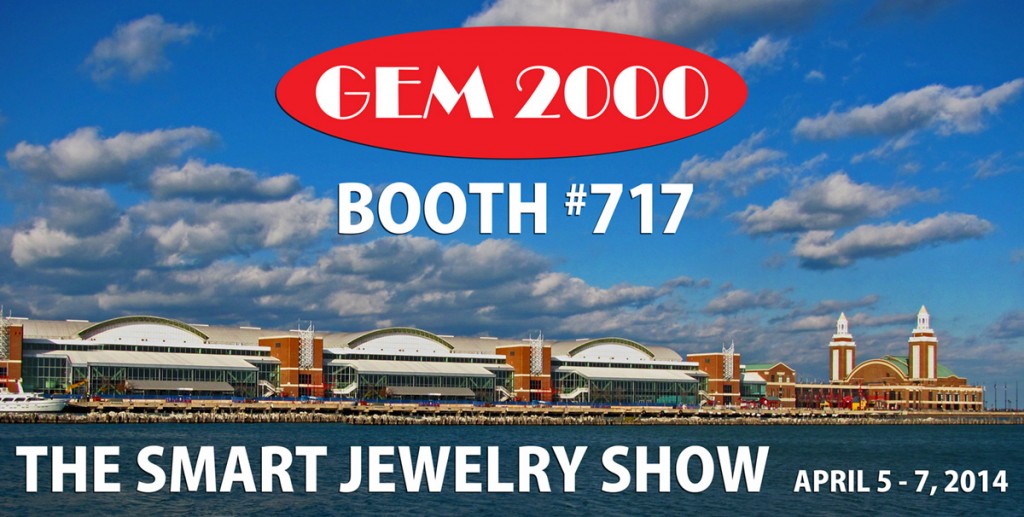 With much anticipation for the arrival of spring this year, much of the retail industry is reminding us daily of lighter brighter more colorful days ahead. Perfectly timed, after a very hard and long winter for many of us, the Smart Jewelry Show is a wonderful venue where you can stock up on all that signals the renewal of life and the celebration of color.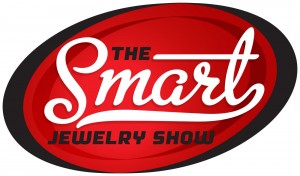 At the Navy Pier in Chicago, this important regional show has consistently grown and improved since it began 5 years ago, making it a perfect destination for many jewelers who cannot wait as long as JCK or enjoy a more manageable, calmer show experience.There is a huge range of vendors covering every single aspect of the industry along with tons of seminars, classes and informational meetings.
At present, we have a wonderful range of beautiful colored gems in many varieties and price points. Please come by our booth and take a look for yourself and enjoy the quality and value we offer.
Feel free to preview our inventory online to get familiar with our offerings. We look forward to seeing you there. Visiting Chicago is so much fun, you cannot go wrong!
AGTA Section – Booth #717
Tags: #smartjewelryshow, chicago, color gems, Gemstones
Posted in Learning Center, Shows | Comments Off on The Smart Jewelry Show 2014
---
Friday, November 29th, 2013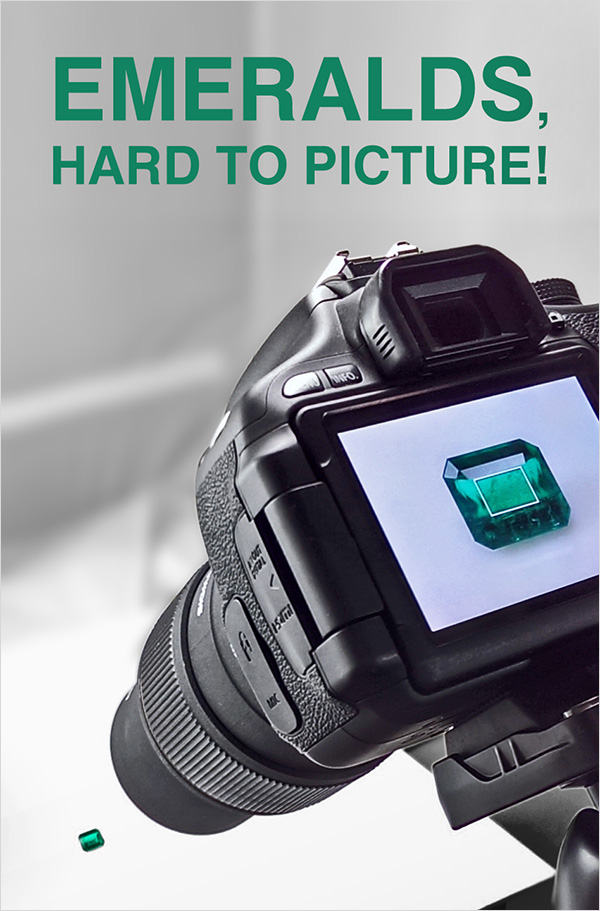 Over the last few years, there have been many pictures of celebrities in stunning Emerald pieces of jewelry in the press. They always look very impressive and exotic reminding one of all that is glamorous and luxurious. Now taking pictures of individual loose Emeralds is a whole different challenge. In fact, Emeralds are the hardest stones to take pictures of, a picture that truly represent what you see in real life. One reason being, that digital cameras have a hard time capturing the dynamic range of greens that exist in Emeralds, as do monitors or screens in displaying them.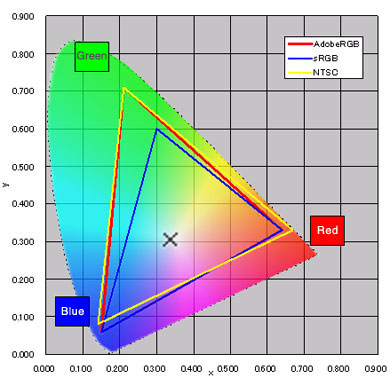 This is a CIE XYZ color system xy chromaticity diagram. The areas enclosed in dotted lines represent the range of colors human beings can see with the naked eye. The ranges corresponding to the sRGB, Adobe RGB, and NTSC standards defining color gamuts appear as triangles connecting their RGB peak coordinates. The color gamut of an LCD monitor's hardware can be indicated using similar triangles. An LCD monitor is not capable of reproduction (display) of colors outside its color gamut.
Next, most gemstone images are taken with telephoto macro lenses which compress (flatten) the image, visibly bringing any inclusions throughout the stone together into a single plane, and thereby appearing more heavily included in the image than in person.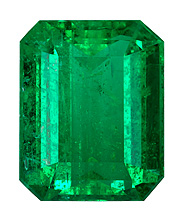 The biggest factor that indicates the fineness of Emerald is its clarity and this is always graded and judged just with the naked eye. Taking a close up picture of an Emerald in reality is magnifying its every small inclusion by a factor of 30 or more. In other words, a close up picture will not be a fair representation of what your naked eye will see. These limitations are truly a challenge when trying to determine the quality of the stones by looking at pictures of Emeralds. Most pictures of Emeralds you see in magazines and brochures are heavily corrected, just to do the stone justice.
Keep this fact in mind when viewing Emeralds on websites and remember that they are always much nicer in person; making them some of the least photogenic of gems!
Tags: emeralds, photography
Posted in Articles, Gemstones, Learning Center, Often Asked Questions | Comments Off on Emeralds, Hard to picture!
---