Archive for the 'Articles' Category
Friday, October 5th, 2018
Emerald
With a history going back thousands of years, Emeralds have remained among the topmost desired gems throughout the ages. No other gem comes close in color to the vibrant range of greens found in Emeralds from all the majors sources; Colombia, Zambia, and Brazil. Emeralds have also been found and in smaller pockets in Russia, Pakistan, Ethiopia and other locales. In general, the color range in Emeralds varies based on the region, but fine vivid greens are hard to find regardless of source. Besides color, clarity is very much a determining factor of price and availability, since pretty much all Emerald have some level of inner-inclusions, known as "gardens". Finding stones that have the right balance of color, clarity and life at each price point is a continuous challenge when we are buying.
Presently, we have handpicked a great selection of stones in very sellable sizes, which truly offer a quality perfect for presenting to your customers who want a special stone to design their own piece with. Remember as you search through our inventory that Emeralds are one of the hardest stones to photograph, and they always look much better in person.
---
Featured Stone: Emerald

A vivid medium rich green, with excellent clarity, cut and life, this Colombian looker is a gorgeous gem. A hard to find shape, with high color, very bright and lively.
Tags: emerald
Posted in Articles, Gemstones, Learning Center | Comments Off on Emeralds
---
Wednesday, July 27th, 2016
We carry an extensive range of colored gemstones, so this puts us in the frontline position for detecting new patterns and shifts in demand as they occur at retail. The newest and strongest trend at the moment is requests for bridal center stones in a variety of colored gemstones. The most popular is requests for sapphires in blues, peaches, pinks, yellows and all shades of purple. There are also requests for rubies, spinels,tourmalines … even aquamarines.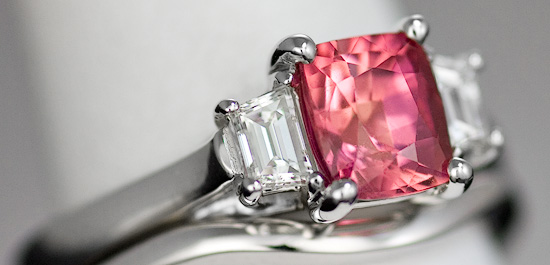 In an advisory role as a professional jeweler, we recommend that you steer away your customer from gemstones that fall short on the durability aspect, and are less than 7 ½ hardness on the Mohs scale. Those range of stones are suitable for occasional wear but since bridal jewelry gets the most beating of all, better spare the bride avoidable disappointment with her new ring.
If your sales people are not aware of this concept, it is best for them to be educated on the need to check the hardness of gems, before recommending or selling a particular gemstone for bridal wear. We are here to help you with appropriate choices. You can also visit our website for the wide range of specific gems available to you and your bride to be.
Tags: aqua, color bridal, color gems, durability, Gemstones, mohs, ruby, sapphire, spinel, tourmaline
Posted in Articles, Gemstones, Learning Center, What's New | Comments Off on Color In Bridal
---
Wednesday, July 27th, 2016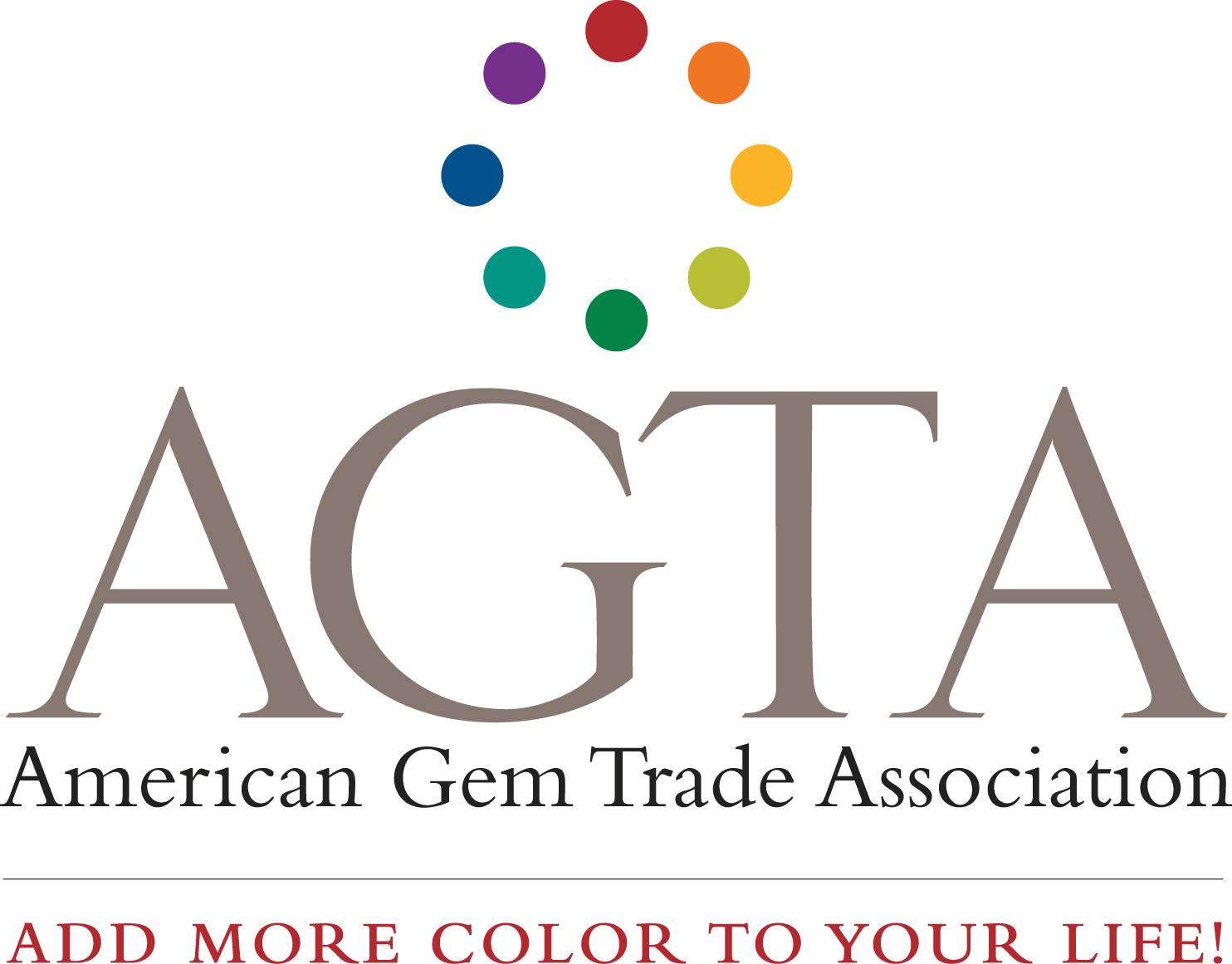 2016 Summer AGTA Spectrum Winners
Tags: agta, awards, color, Gemstones, jewelry, Spectrum
Posted in Articles, Gemstones, What's New | Comments Off on Congratulations to all the 2016 Summer AGTA Spectrum winners!
---
Tuesday, August 19th, 2014

"Beauty is in the eye of the beholder"
This saying reminds us that personal taste ultimately determines this preference. That being said, there are different market prices for specific shades of colors based on availability and current market demands. At any given time, there is a general market consensus on what are the most preferred or desired shades of color worldwide closely linked to rarity;
Here are some general pointers to help you pick these shades of color:
Learn to distinguish the type of secondary colors present in the stone you are looking at, in order to determine if they are desirable ones.
Grays and browns are secondary colors to avoid in most gemstones, signaling de-saturated colors i.e.; think of spinels where finding vivid pure colors are difficult.
Pure, vivid colors are the most desired, whether in lighter or darker shades. How pure or vivid the pink or blue in the sapphire is, has the most effect on the stone's visual appeal and price.
Some secondary colors are very acceptable and actually indicate origin of gemstone i.e.: violet blue in Ceylon Sapphire, pinkish red in Burma Ruby, and the different proportion of yellow or blue found in the green of Emerald, indicating Zambian or Colombian.
It always helps to have a master stone for comparison purposes. It is very difficult to remember color, even for seasoned buyers.
Gemstones with lighter body colors, like aquamarine or tanzanite are very hard to find in saturated (rich) colors, specifically in smaller sizes. For example, it would be extremely rare to find the color of a 10-carat fine tanzanite in a 1-carat stone.
Stay away from over dark colors as it becomes very hard to see the vibrancy of the gem. Determining the difference between rich fine color and over dark colors, is best mastered by observing many gems and constantly training your eye.
Be mindful of the tradeoff between saturation of color and life of the stone. These decisions can amount to thousands of dollars when looking at Rubies, Emeralds and Sapphire. You have to decide on the best combination of factors you wish present in the stone at any given price point, since the sky is the limit when it comes to perfection.
Each species of gem has its own specific range of colors it comes in. The more gems you look at, the more your eye will get trained to pick up on these nuances of color. Take advantage of trade shows to familiarize yourself with these ranges.
Light and bright is really in demand right now and vivid, neony, minty colors have a lot of appeal in current color pallets. These colors are found in Aquamarine, Afghan Tourmaline, Merelani Mint Garnet, Mahenge Spinels, Kunzite, Morganite, Chrysoberyl and more…
Of course, the term fancy color can get attached to many varieties of gemstones to indicate unusual shades of colors. You can pick up some good deals in this category if you have a good sense of design, color combining and offering unique and one of a kind items. You still want to make sure these gems are clean, well cut and bright.
Feel free to use our great website to browse through and familiarize yourself and your sales staff with available choices of fine color. Our website is a fantastic tool that enables your staff to make well-informed color recommendations. This education allows you to reach a large untapped market; people who love color!
Tags: color gems, color gemstones, preferred shades
Posted in Articles, Gemstones, Learning Center, What's New | Comments Off on "Preferred Shades" in Color Gemstones
---
Thursday, March 27th, 2014

Anyone remotely interested in colored gemstones in the jewelry industry, is fully aware of the important role the Tucson Show plays in setting expectations and standards for the whole world gem market. This could be regarding availability of rough in different gem materials, popularity of gemstones and colors, and an update on current market prices on all categories of gems.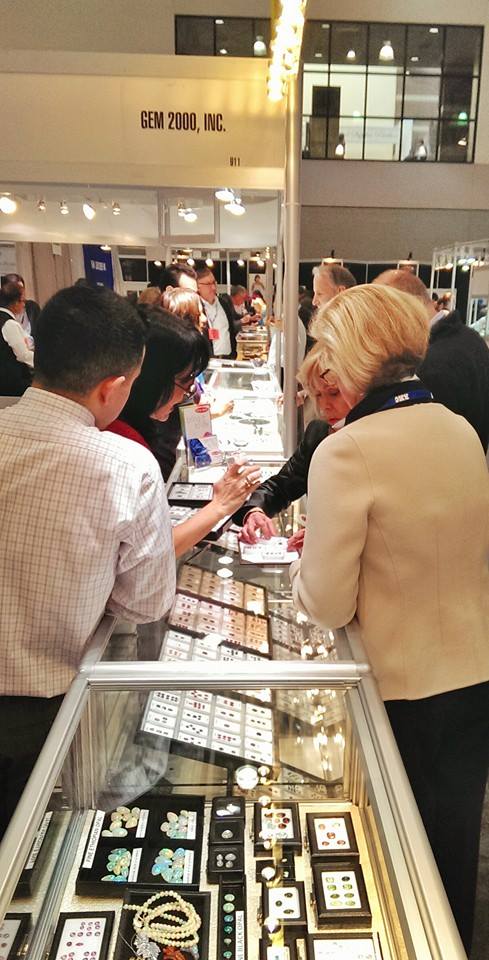 Being on constant watch for all of these factors, we continually fine-tune our buying to allow us to service our customers competitively and offer the best value. We are pleased when we are assured of this fact by positive feedback from customers buying at our booth, with so many shopping options available in Tucson!
This year we had great interest shown in our whole range of fancy colored sapphires and blue sapphires. Our Spinel trays were pulled out of the showcases ongoingly as well as our Tsavorites and Spessartites. We got many remarks on the great selection of Aquamarines and Tourmalines we carry, which include many great matched pairs, not a common occurrence.
In general, we sold many more of our finer stones than our medium quality in most varieties of gems and ranges of color. The overall mood of the gem hall was positive and upbeat and buyers seemed more focused and busy taking care of their "To-Do" lists. All of these factors, signs of a stronger year ahead for all of us.

Tags: tradeshow, tucson 2014, tucson gem show
Posted in Articles, Shows | Comments Off on Tucson 2014 Review
---
Tuesday, March 25th, 2014

Whether at trade shows, or directly sent or brought to our office, we encounter many pieces of used jewelry with missing or broken stones.
We are then asked to match the existing stones with what needs replaced. Most of the time these pieces of jewelry have been well used with a heavy buildup of soap residue and grime on the gemstones, making it very difficult to decide on the color and clarity of the stone in the piece. Make sure to CLEAN each piece of jewelry to the highest degree possible, BEFORE trying to match the replacement stones. Chances are the equipment you have in your store for cleaning jewelry will not be present at a loose gem dealer's office, so it is better to clean the jewelry before the gem dealer sees them.
It is already hard to match used and often abraded stones in a piece with new stones, but this way you will at least get the best color match possible.
Tags: cleaning, color match, gems, gmestone matching, jewelry, matched pairs, take-in, wash
Posted in Articles, Learning Center | Comments Off on "Matching" Tip on Take-In Jewelry
---
Monday, March 24th, 2014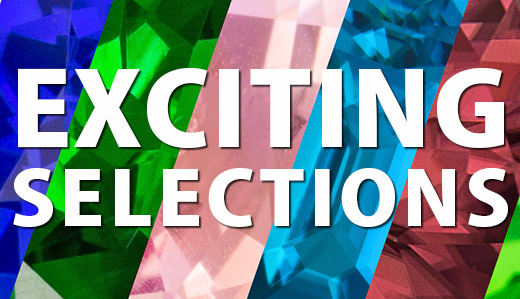 Our love and appreciation for fine color has led us to carry one of the most diverse inventories of color gemstones, constantly changing and evolving. Taking a quick mental snapshot of what we carry at present, these are a few areas we are particularly strong in:
Unheated Sapphires:
Great clarity and cut in better colors of blue in much requested smaller sizes up to larger single stones. This also includes yellows and pink Sapphires.

Blue and Fancy Color Sapphires:
Despite the ongoing scarcity of supply and increasing prices at the source, we continue to have an extensive inventory of fine blues, many excellent matched pairs, as well as yellows, pinks, purples, peaches and other shades of color.

Chrome Tourmaline:


We are excited about our recent purchase of a few larger chromes, which are very hard to find in better colors.
Tsavorites:
Great selection of top color stones in very salable sizes, super clean, well cut and bright with many matched pairs.

Zircon, Blue and Fancy:
Fine saturated blues in very well cut stones up to larger sizes, many excellent matched pairs. A huge range of size and shades of color in green, honey, brown, rose and yellow Zircons, excellent selection.

Of course, these are only some of the types of gemstones we carry. Feel free to browse our website, which also offers a very useful search option to help you fill your requests.
Tags: chrome tourmaline, color gemstones, sapphire, tsavorite, unheated sapphire, zircon
Posted in Articles, Gemstones, Learning Center, What's New | Comments Off on Exciting Selections
---
Friday, November 29th, 2013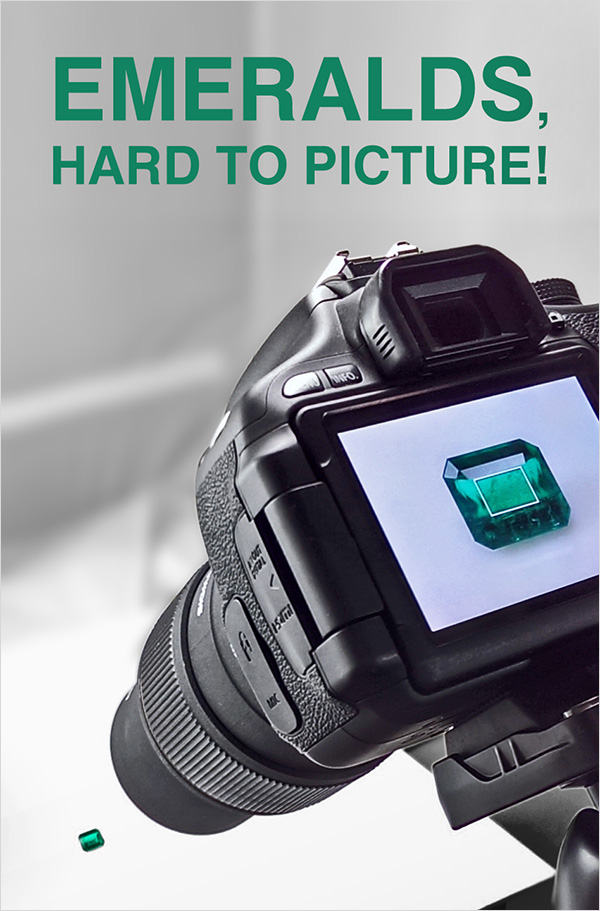 Over the last few years, there have been many pictures of celebrities in stunning Emerald pieces of jewelry in the press. They always look very impressive and exotic reminding one of all that is glamorous and luxurious. Now taking pictures of individual loose Emeralds is a whole different challenge. In fact, Emeralds are the hardest stones to take pictures of, a picture that truly represent what you see in real life. One reason being, that digital cameras have a hard time capturing the dynamic range of greens that exist in Emeralds, as do monitors or screens in displaying them.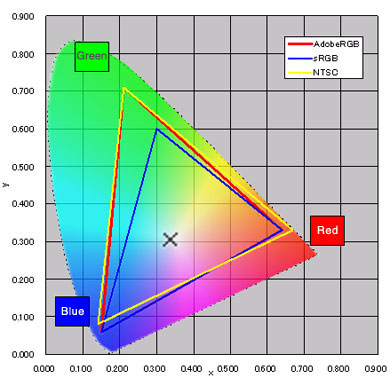 This is a CIE XYZ color system xy chromaticity diagram. The areas enclosed in dotted lines represent the range of colors human beings can see with the naked eye. The ranges corresponding to the sRGB, Adobe RGB, and NTSC standards defining color gamuts appear as triangles connecting their RGB peak coordinates. The color gamut of an LCD monitor's hardware can be indicated using similar triangles. An LCD monitor is not capable of reproduction (display) of colors outside its color gamut.
Next, most gemstone images are taken with telephoto macro lenses which compress (flatten) the image, visibly bringing any inclusions throughout the stone together into a single plane, and thereby appearing more heavily included in the image than in person.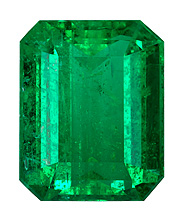 The biggest factor that indicates the fineness of Emerald is its clarity and this is always graded and judged just with the naked eye. Taking a close up picture of an Emerald in reality is magnifying its every small inclusion by a factor of 30 or more. In other words, a close up picture will not be a fair representation of what your naked eye will see. These limitations are truly a challenge when trying to determine the quality of the stones by looking at pictures of Emeralds. Most pictures of Emeralds you see in magazines and brochures are heavily corrected, just to do the stone justice.
Keep this fact in mind when viewing Emeralds on websites and remember that they are always much nicer in person; making them some of the least photogenic of gems!
Tags: emeralds, photography
Posted in Articles, Gemstones, Learning Center, Often Asked Questions | Comments Off on Emeralds, Hard to picture!
---
Tuesday, November 19th, 2013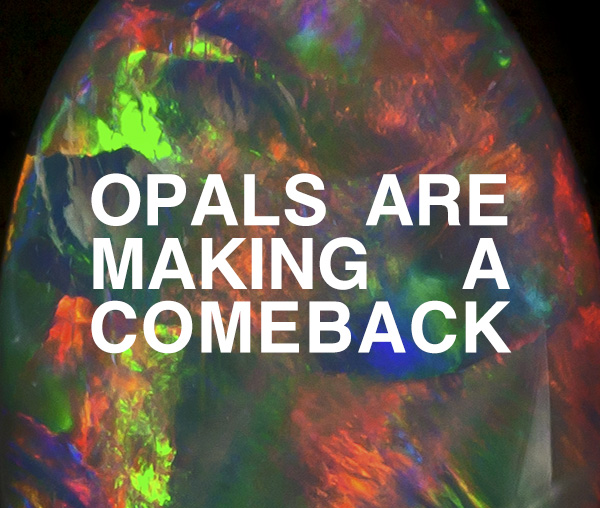 The AGTA Spectrum jewelry competition just celebrated their 30th anniversary. The amazing range of entries each year give a clear indication of what is at the forefront of fashion and style, establishing trends and setting the tone for the year to come. This year's selection included a beautiful range of pieces many featuring Opals as their main gemstone, including many varied combinations of other complimentary colored gems. A more playful approach was present in the designs, which highlighted the unique multicolored nature of opals.
We always recommend pulling out the blue, green and yellow's present in most opals with bright Tsavorite and Sapphires. Rich, vivid and bright gemstones like that truly complement the existing colors present in finer Opals.
Majestic Black Opals, fiery Crystal Opals and lava orange Mexican Fire Opals, multicolored flashy Ethiopian Opals are all wonderful points of inspiration in themselves, an amazing nature's painter's palette. Add a few accent stones and a beautiful frame of precious metal and presto! You have a masterpiece to offer your color loving audience. Check out our website for our beautiful offering of Opals and other gems.
Tags: agta, black opal, color gems, color gemstones, Gemstones, lightning ridge, mexican fire opal, spectrum awards 2014
Posted in Articles, Gemstones, What's New | Comments Off on Opals Are Making A Comeback
---
Friday, November 15th, 2013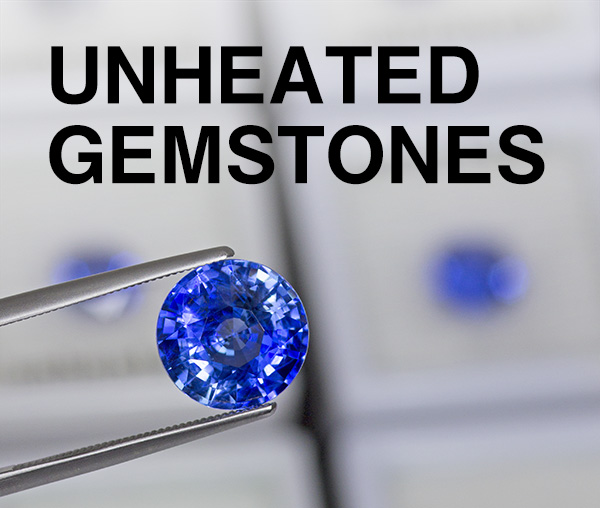 Throughout history, miners and cutters of gems have worked tirelessly to improve and enhance the beauty of their final products, developing new faceting styles as well as treatments for the gem rough. Heating gemstones is among the oldest developed technique that is still currently used with most gem material.
Some gem varieties are never heated, simply because they do not really respond to heating. These gem varieties include the whole garnet family, spinels, chrysoberyls, alexandrites, peridots, opals, emeralds and chrome tourmalines.
Among the gem varieties that are regularly heated like corundum, which includes, all rubies and sapphires, there are certain stones that are left unheated. This mainly is due to the fact that these stones would still be as saleable at a profitable market price without heating. These stones are far and few in between and make up a very small portion of all stones sold, understandably always at a premium.
It is very important to handle unheated gems differently, since they have never been exposed to high heat. We have heard of a few unfortunate times when the fact that the sapphire was unheated was not mentioned to the bench jeweler and being exposed to the torch had changed the original color of the gem. (Especially in unheated yellow sapphires) Another incident we have heard of a few times has involved customers wearing their natural gemstone jewelry to tanning booths and the radiation changing the color of the gemstones. So remember to tell your customer not to wear their jewelry there and in hot tubs!
Tags: gems, natural, no heat, unheated gemstones
Posted in Articles, Gemstones, Learning Center | Comments Off on Unheated Gemstones
---