Archive for March, 2011
Monday, March 7th, 2011
A beautiful rich emerald green color, this fine quality chrome tourmaline truly exemplifies the best of its color. With a rare and difficult shape to find this eye catching emerald cut chrome tourmaline is extremely unique. Perfect for offering the much sought after "green" red carpet look at a fraction of the cost at an equally fine emerald, it probably is as rare of a gem, in its own category.
Item# 3308 – 3.17 ct – Emerald Cut – 9.5 x 8.1 mm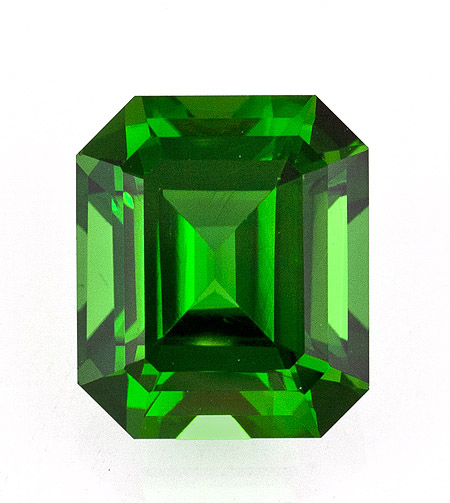 Tags: chrome tourmaline, emerald cut, gem, Gemstones, green
Posted in Gemstones, What's New | Comments Off on Gem Chrome Tourmaline
---
Friday, March 4th, 2011

We have acquired a limited supply of beautiful open colors of blue green and mint green Tourmaline from Africa and Afghanistan, often referred to as sea foam or mint green, beautifully cut, with many matched pairs in the selection. Also a few very clean well cut pieces of soft pink Tourmaline that is so hard to find, when one wishes to duplicate the delicate larger pink diamond look.


We also have a couple of perfectly calibrated clean and bright parcels of Mexican Fire Opal, ideal for multiple accent use in a statement piece.

We have also been able to add to our great selection of beautiful blue and fancy color sapphires, despite the huge increases in price happening at the source level.

Tags: color change sapphire, color gemstones, diamond, fancy sapphire, fire opal, gem 2000, mint green tourmaline, sapphire, seafoam green tourmaline, soft pink tourmaline
Posted in Gemstones, What's New | Comments Off on Some New Materials
---
Thursday, March 3rd, 2011
Besides being one of the coldest Tucsons to date, the AGTA Show itself was upbeat and energetic. Buyers had more of a spring in their step this year and actively seeking to add fresh goods to their inventory. Most everyone was feeling the atmosphere of business becoming more normalized and in the upswing mode. I heard repeated comments from buyers about not being as in touch with current prices since they had really not bought much in a couple of years. Finer better gems were still in the highest demand but well cut bright unusual gems in lower price points were also seen as a good price point item allowing for higher profit margins. In general I found buyers more open to buying special, beautiful gems as opposed to just trying to find specific sized gems that fit certain mountings. As usual stores who had invested in offering the unique and unusual custom pieces were satisfied and working hard on improving their range of offerings, allowing them to keep ahead of the curve.
It had started to warm up the day the show was ending with many buyers and exhibitors returning to much ice and snow, wishing they could have stayed on to enjoy the wonderful desert sun.
Tags: 2011, agta, gemfair, tucson
Posted in Shows | Comments Off on Tucson Update 2011
---