Archive for August, 2010
Tuesday, August 17th, 2010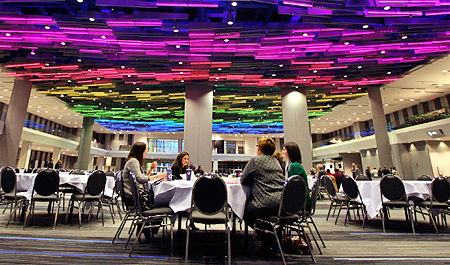 Mid-American Jewelry Show
Columbus Convention Center
August 21 & 22, 2010 Booth #208
Like the weather, we too prepare to shift gears in our business and personal lives this time of the year. Summer, a time to relax, rejuvenate and enjoy the slower paced lazy days, is ending and schools start everywhere. For many of us, another thing that signalizes the end of summer is the Mid-America jewelry Show, taking place here in Columbus, Ohio.
Having exhibited at it for over 20 years, we are excited this year about the change of venue. Though still at the conveniently located Columbus Convention Center, the show has been moved to the newly renovated Battelle Grand Ballroom, which is promised to be a much more beautiful and intimate setting, enhancing the overall feel of the show. We encourage all of you to take advantage of this convenient and inexpensive regional show close to you, and help get yourselves focused for business this fall.
The area around the Convention Center also has a lot to offer visitors, with a great selection of restaurants and night life right there in the Short North, a growing and emerging happening part of town. It will prove to be a fun weekend well spent for all who decide to come and visit us.
Right now, we have some new and interesting items in our inventory as well as our great selection of fine quality gems in popular and salable ranges, perfect for all tastes and budgets.
As we talk to our customers we hear that many jewelers are experiencing healthy profit margins in their offering of custom designs with colored gems and wish to expand and build on that business. So if you already haven't tried it, start small and offer something new to your customers, making you their Color destination.
Tags: battelle grand ballroom, color gems, columbus, gem 2000, Gemstones, jewelry, mid-america jewelry show, tradeshow
Posted in Articles, Shows | Comments Off on Mid-America Jewelry Show
---