Archive for April, 2010
Thursday, April 29th, 2010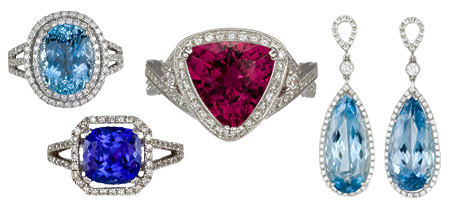 Over the last twenty five years of being in business, we have always offered loose fine gems as our line and put all our resources and energy towards excelling in the quality and make of our loose gems.
For many years, we have also seen the desire for jewelers to have an easier and accessible way of owning more finished goods, with the quality of gems we offer. We are trying to address this interest by offering some very saleable and attractive styles of mountings that can be custom made around any gem you buy from us. You can examine the fine workmanship and the fine quality of diamond melee used in these pieces. So let us help you by having you do less work and still get that beautiful gem in the showcase, so it can start selling!
Tags: color gemstones, earrings, finished goods, gem 2000, gems, jewelry, rings
Posted in Learning Center | Comments Off on A New Service: Offering Finished Goods
---
Thursday, April 29th, 2010


As importers of fine colored stones in a large range of gems, we have noticed a significant increase in interest and demand for more unusual gems. Recently this interest has become even stronger. Gems such as Chrysoberyl, Spinels, fancy color Zircons, fancy color Sapphires, Apatites, and many more have proven to be very popular. We have also noticed a greater demand for finer pieces in less expensive materials which helps distinguish a piece of jewelry from a mass produced, mall store offering.
In the same line of thinking smaller finer gems in medium to more expensive materials are also in high demand allowing jewelers to offer affordable high quality pieces to their discriminating and better informed customers.
Tags: apatite, chrysoberyl, color, fancy, gem 2000, gems, Gemstones, sapphire, spinel, unusual, zircon
Posted in Gemstones, Learning Center, What's New | Comments Off on The Unusuals Have Become Popular
---