Archive for 2010
Thursday, November 18th, 2010
Being the November birthstone, Topaz has enjoyed long-time recognition and demand. When the inexpensive irradiated blue colored Topaz was introduced in to the market, it allowed the masses to own very affordable pieces of jewelry with Topaz. Since then other treatments such as coatings have allowed more variety of colors available for low priced commercial pieces of jewelry.
Precious Topaz has always remained strong in its own category, consistently known as being a "gem". Under the heading of Precious Topaz, you will find colors ranging from a light yellow to gold, to golden peach. The intense peachy pinks or sherry colors are given an increased distinction and acknowledgement of their rarity by being called Imperial Topaz. Super rare and expensive, they occasionally exhibit shades of strawberry red. Pink Topaz are not as common and come in soft pastel shades up to intense medium pinks in the super fine materials. Price per carat is directly based on the shade of color of the Topaz and how much peach and pink it exhibits.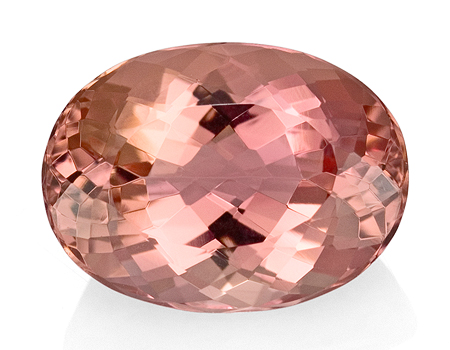 Though the fine gems are wonderful to admire and marvel at, there truly is a range of price on this gem, making them extremely accessible to all your customers regardless of budget. And yes, there always is blue Topaz as a last resort for price.
Familiarize yourself with these choices, so you can service this request when it walks into your store. Our web search is a great tool for this overview.
Tags: blue, columbus jewelry show, gem, gem 2000, gemstone, Gemstones, golden, imperial, irradiated, peach, precious, sherry, topaz, trade show
Posted in Articles, Gemstones, Learning Center, What's New | Comments Off on A Topaz for Every Taste
---
Wednesday, November 17th, 2010
We all have heard about the stunning sale of the $46 million fancy pink diamond by now, and wonder if it might create a desire for larger soft pink stones among the up and coming. We presently have a beautiful selection of super well cut, bright and lively saturated colors of Kunzite that can make this dream a reality on a MUCH smaller budget. Make sure you check these out and are ready to become the dream maker.
Tags: $46 million, fancy pink diamond, Gemstones, kunzite, pink, sotheby's
Posted in Articles, What's New | Comments Off on Dreams can Come True, $46 Million or Not
---
Thursday, November 11th, 2010
This gem exhibits a beautiful rich peach color with a golden flash. Its amazing cut, life and clarity is made even more attractive by the current and desirable shape and outline it has. Suitable for any fine piece of jewelry, it truly shines.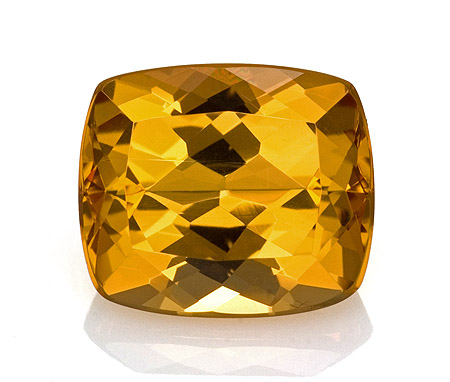 Item # 2135 – 10.5 x 9 mm  – Cushion – Precious Topaz – 4.94 ct
These fine colors in Topaz have become very hard to find and based on our replacement prices, make this stone a great bargain.
Tags: color gems, cushion cut, gem 2000, gems, gemstone, precious topaz, topaz
Posted in Gemstones | Comments Off on Precious Topaz
---
Wednesday, November 10th, 2010
With a beautiful saturated pure blue color, this radiant cut aquamarine is the perfect stone that lends "custom" to any price of fine jewelery made with it. Extremely elegant and special, it is also a great value in a fine gem.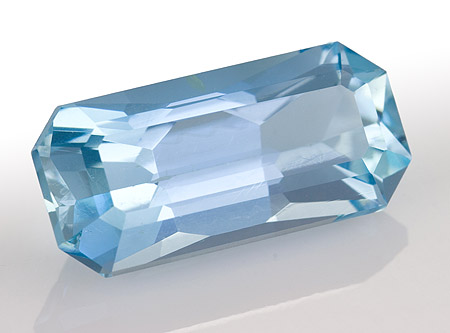 Item # 2539 – 16.8 x 7.9 mm – Radiant – 5.96 ct
Perfect in white metals in a pendant, cuff or a ring, it will prove eye-catching.
Tags: aqua, aquamarine, cuff, gems, Gemstones, jewelry pendant, radiant aqua, ring
Posted in Gemstones | Comments Off on Radiant Aquamarine
---
Tuesday, November 9th, 2010
With a gorgeous saturated color of peach and a touch of gold, this perfectly cut, clean and bright gem is a sure winner. Since Topaz is a heavier gem, this stone also offers  a great face up for its weight, making it a super smart buy. This color of Topaz is most often graded as Imperial in the trade, which increases the asking price significantly. We reserve that term only for stones with more pink and sherry present.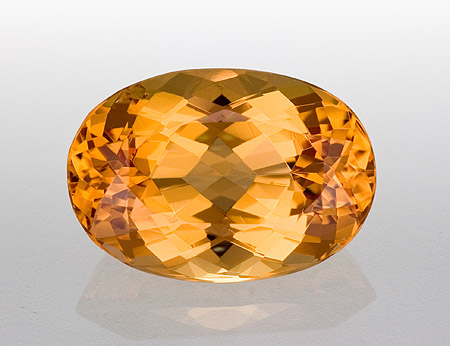 Item # 2132  – 14.2 x 9.9 mm Oval Precious Topaz – 7.38ct
Availability of nicer precious Topaz has become extremely rare these past few years, making this piece a much sought after item.
Tags: gem 2000, Gemstones, november birthstone, peach, precious topaz, sherry, topaz
Posted in Gemstones | Comments Off on Oval Precious Topaz
---
Friday, November 5th, 2010
Until now the Gem 2000 Gem Search has featured all our single stones and matched pairs. We have recently added the large number of gemstones we have in parcels and lots to the search results as well. This addition allows you to find several hundred more results, a more accurate representation of our existing inventory.
This change now allows searches for when you are making up pieces with multiples of the same stone, such as in pave work, channel setting, bracelets and wedding bands. Also suitable for creating one of a kind designs, you are assured of having a great matching parcel to work with.
Try our Gem Search for your gem requests, and let us know if you can't find what you are looking for. We are ready to help you fill those calls.
Tags: emerald parcel, gem 2000 gemsearch, gem search, lot, news, parcel, ruby parcel, sapphire parcel
Posted in Gemstones, What's New | Comments Off on Expanded Search Results
---
Thursday, October 28th, 2010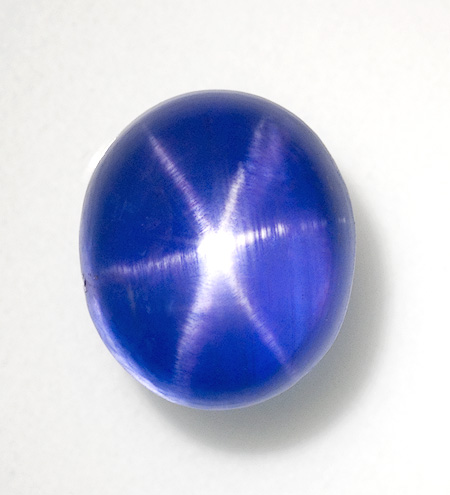 With great world recognition, Star Sapphire are the celebrity in this cast of gems. A great feature of this phenomenal gem is that it appeals both to men and women in any piece of jewelry, such as earrings, cuff links, tie tacks, rings, bracelets or broaches. With its very large range of colors and price points, anyone can reach for a star and own it.
When presenting stars to your customers, proper use of lighting is of the utmost importance. Make sure you use a strong single source of light to best demonstrate this feature. The sun is the best source of light in this case, and if not possible a strong flashlight will do. Diffused lighting and multiple sources of light will not produce the star present in the gem. Teach and practice showing star sapphires with your staff, since that is ultimately the feature you are selling in these beauties.
Tags: blue stars. blue star sapphire, pink star sapphire, star sapphire
Posted in Gemstones, Learning Center, Often Asked Questions | Comments Off on Bringing out the Stars
---
Monday, October 18th, 2010
A hot vivid rich orange, this beautiful matched pair of pear shaped Spessartite Garnet truly dazzles. Their color, clarity and superior cut will guarantee any design featuring them to shine.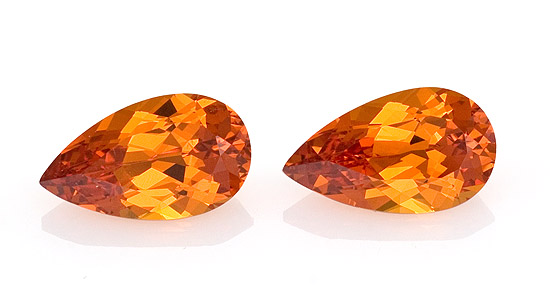 Item # 2852 – 9.6 x 5.6 mm Pear Shape Spessartite Garnet – 3.15 ct TW
Drop earrings are in!! Seen in so many winning designs and on red carpets, this beautiful pop of color can truly be worn all year round, simply by themselves or as accents for larger earrings.
Tags: color gems, garnet, Gemstones, matched pair, pear shape spessartite garnet, spessartite
Posted in Gemstones, What's New | Comments Off on Matched Pair of Pear Shape Spessartite Garnet
---
Friday, October 15th, 2010
Earthy and sunny, this beautiful matched pair of yellow Zircon is extremely well cut, bright and super well matched. Their amazing life and sparkle truly resembles fancy color diamonds. At a super affordable price, it allows you to create a very salable custom look.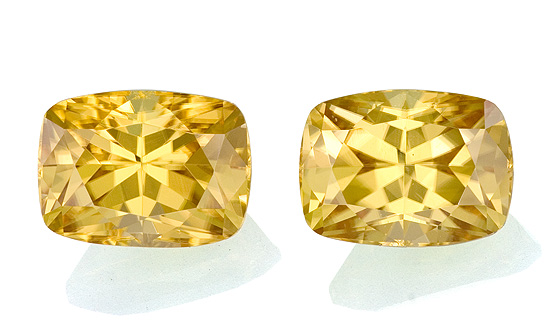 Item #2947 – 9.9 x 7.3mm Cushion Pair Natural Yellow Zircon – 8.93ctTW
Framed very simply in gold, they will surely catch the eye of any discerning customer who wants the big bold look on a budget. A sure winner.
Tags: gems, gemstone, pair of yellow zircon, yellow zircon, zircon
Posted in Gemstones, What's New | Comments Off on Natural Yellow Zircon Cushion Pair
---
Thursday, October 14th, 2010
Celebrating falls earthy neutral colors, this beautiful cushion Zircon is extremely well cut and bright. Its crispness and clarity truly gives it a stunning fancy color diamond look that is very impressive and eye catching at a small fraction of the cost.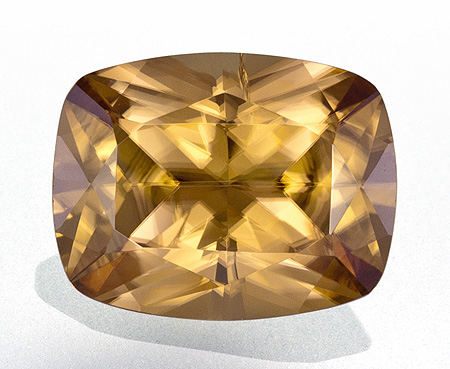 Item # 3119 – 13.9 x 10.8 mm Cushion Honey Zircon – 8.97 ct
Larger Zircon such as this are very rare and often appear lazy and muddy in appearance. This very affordable gem offers your customer the wow factor well within their means. A truly salable and unique piece.
Tags: brown zircon, gemstone, zircon
Posted in Gemstones, What's New | Comments Off on Honey Natural Zircon
---