Archive for November, 2009
Friday, November 20th, 2009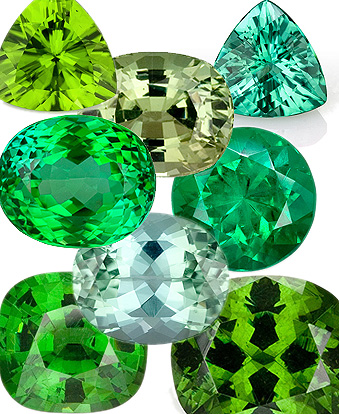 As we approach the month where most jewelers report, accounts for more than 30% of their yearly sales, it is important to be aware of what is "desired" this season. Based on fashion and industry reports "green" is in. Green, with all its wonderful and various shades, from forest to moss to lemon. Our extensive range of colored gems in green includes: Emeralds, Tsavorites, Chrome Tourmalines, amazing varied hues of Tourmaline, Peridots, green Zircons, and lemony Chrysoberyls. This great range and variety of gems is sure to please all tastes and budgets. Make sure to offer some "green" to your customers this season.
Tags: chrome tourmaline, chrysoberyl, color, emerald, Gemstones, green, moss, peridot, tourmaline, tsavorite, zircon
Posted in Learning Center | Comments Off on Green is In
---
Friday, November 13th, 2009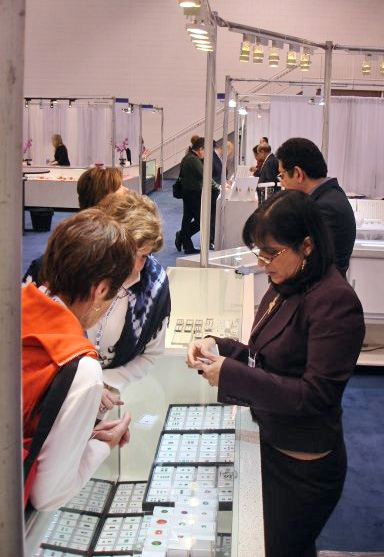 This is the real factor which justifies and okays every customer's decision to buy. Buyers decide what stores they feel comfortable to frequent based on what their selection of offerings are and also what the customer's comfort level with the price range and quality of the goods offered by the store is. But the most basic, often not very obvious determining factor is: which retailer do they trust to stand behind their goods. At a time when every dollar spent counts for even more, when buyers make more expensive purchases, they want transparency and trust; basically knowing that they are getting what they have bargained for.
As authorities in gems and jewelry, each jeweler has the obligation to offer this assurance to their customer. Being informed and trained in basic gemology, goes a long way to distinguish the independent jeweler from a mall or department store. As wholesalers we have seen the success that better trained and informed sales people and jewelry store owners have with the closing of sales on more important gem pieces. Knowing about different sources, range of qualities, availability and current enhancement of gems can help you establish value and trust in your presentation, allowing the customer to make their final purchase in full confidence. For example, knowing the difference between unheated, heated, and composite ruby in a three carat stone is thousands of dollars, and an accurate and scientific explanation is rightfully owed to any customer wishing to make such a purchase. You can establish your expertise by being the source of such information and staying fully informed regarding anything that directly relates to any piece of jewelry in your showcase.
We, at Gem 2000 spend many hours each day, sharing the latest information regarding new finds, enhancements and availability of different gemstones with our customers, arming the jewelers with such knowledge, leading to more confident and informed purchases. Knowing that your supplier is behind their goods 100%, is something you can bank on, and in turn allows you to offer the excellent customer assurance, you strive to stand for.
Tags: gemology, jewelers, sales, training, wholesalers
Posted in Articles, Learning Center | Comments Off on Getting the "Real" Deal
---