Archive for April, 2009
Thursday, April 30th, 2009
The Instore Show took place in Chicago, April 19-20, 2009 for the first time. Their magazine's content, organization, and constant improvement had encouraged us to commit to exhibiting, when they had first talked about it, over a year ago. Of course, in hindsight this might not have been the best year to introduce a new show, but then who knew! In that regard we are all equal.
The set up for the show went pretty smoothly. As exhibitors we always have the worries and concerns one has with a new location and set up. The hall was very well lit and easy to get to as you got off the buses that ran back and forth to the surrounding hotels every 1/2 hour. After we finished set up we had a nice walk along the Navy Pier. It was a nice Saturday, so it was very active, bustling with people. We ended up eating at a great seafood restaurant with an outside terrace. Both our fish dishes were very tasty and fresh. We didn't see the sun for the next 3 days as it rained non stop, so I'm glad we got that afternoon in.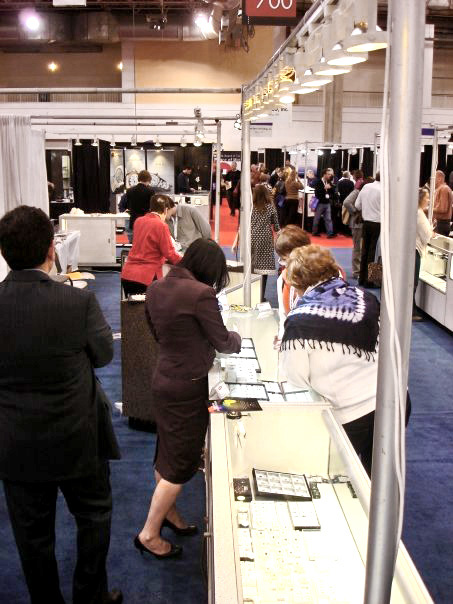 The first day of the show, a Sunday, had very good traffic. So, it kept us busy meeting and talking to customers all day. I think the show had done a good job bringing in the numbers of attendees in light of everything. How many of them actually turned into buyers during the show, probably a bigger challenge for all involved. Although the show didn't quite have a Tucson or JCK larger show feel to it, it definitely felt like a larger regional show with good growth potential. Many of the buyers were happy to have such a show happening close to home, in Chicago. Buyers who maybe as a rule do not attend Tucson or JCK expressed a great deal of interest at the loose gem and pearl AGTA section.
Many buyers were impressed by our selection of high quality gems, and the large range of gemstones we carry, mentioning that they have been looking for a supplier of better quality goods. Also, a great number of the buyers expressed interest in finding out more about our website and its features; such as searching for gems, great pictures, markup options, and how to integrate it into their existing website as their own virtual inventory. In general I found people more eager to learn and be educated in the area of gems where they are less exposed to or familiar with. It kept us busy and involved, hoping eventually these leads to turn into calls and sales. The second day was less busy and the third day was on the quiet side.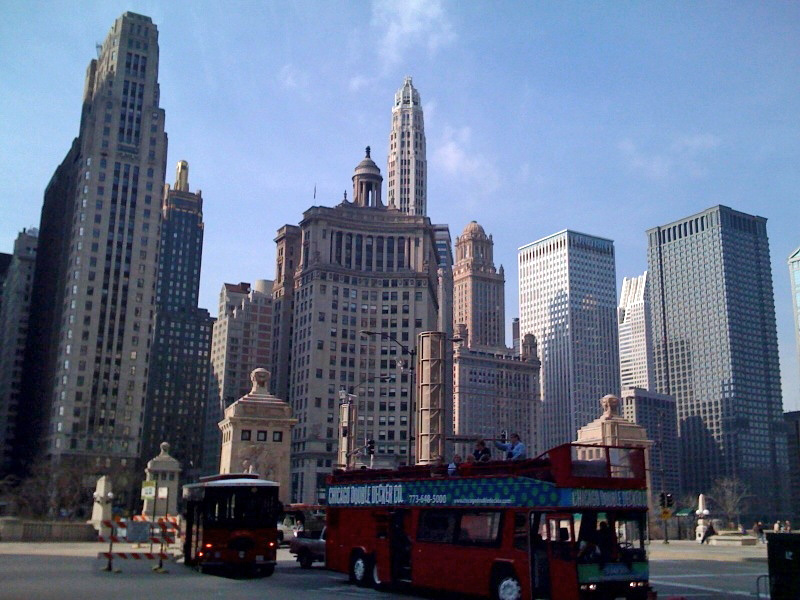 Our room at the Sheraton had a great view of many of the beautiful and historic downtown buildings and great restaurants within walking distance. After closing up the last day of the show we walked over to this wonderful Indian and Latin fusion restaurant called Vermilion. The food was delicious, with a very sophisticated mixture of flavors and spices not commonly found in either cuisine. Walking back and forth to our hotel was a cold and windy reminder of what city we were in. The sun came out the next day as we were leaving, and the walk to where we had breakfast was fresh and beautiful.
All in all, we are glad we took part in this show and hope it grows and flourishes as consumer confidence picks up and the desire to own beautiful gems and jewelry is exercised more often.
- by Shomais Shirazi, GG

Tags: chicago, color gemstones, gem 2000, instore gem jewelry show, instore show, jck, jewelry, navy pier, tradeshow, tucson
Posted in Articles, Shows, What's New | Comments Off on The Instore Show – Chicago
---