Archive for November, 2008
Wednesday, November 5th, 2008
In general, most jewelers' gem purchases happen at trade shows, from visiting dealers at the store, and of course the special requests through the year where we call our favorite suppliers and have them send us a few stones on memo to show to our customer. The idea most jewelers have about the price of a gem is based on what they have last bought it for, seen it at a show or from a memo sent to them by a dealer. When exhibiting at trade shows, I can tell how many years it has been since a customer has bought a certain type of stone based on how much the tell me they last paid for it. In other words, prices on most gems a have been steadily increasing. Having an updated knowledge of how much of an increase can help jewelers give more realistic quotes to their customers and also not sell a gem they have owned for many years, only to realize they cant even replace it for the retail price they sold it for!!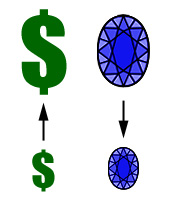 As wholesale dealers, being higher up in the distribution channel, we experience these shifts and increases first hand before jewelers do. To best fill jewelers needs, we have to constantly buy to keep our inventory levels high. Based on supply, different varieties of gemstones experience different levels of price increase, and in general, commercial grades of gems are less affected price wise than the gem quality materials. Also, Increases in prices are more drastic some years than others. The world's gem supply is basically offered to the world market at large and the strength of the buyers is determined by the economies of their respective countries. Over the last couple of years, the American buyers have had a much harder time competing for the finer goods, because of a weaker dollar, the presence of emerging strong economies like India and China, and cash based economies like Russia.
During a recent purchase from a Sri Lankan dealer/cutter that specializes in finer quality, better cut gems who we have worked with for many years, we noticed a significant increase in the prices of 1ct and larger stones, and anywhere from 20-25% price increase in finer yellow sapphires from over just five months ago. The increase of blue sapphire pricing was a little less, with a more drastic increase in the medium to medium light colors. Availability of larger stones in general was down, and it was hard to replace the 3ct plus, higher sized blues. Pink sapphires of nice color and larger sizes were basically not there.
It always takes a while for new prices to establish themselves all the way down to retail and going through a major trade show usually helps the industry with that process. The next major upcoming gem show is the Tucson show, February 2009, where we will be exhibiting at the AGTA GemFair, Booth #1006. Please come and visit!


Tags: agta gemfair, blue sapphire, buying gems, colored gemstones, gem prices, sapphire, sapphire prices, tucson gem show
Posted in What's New | Comments Off on Sapphire Prices Higher, Larger Sizes Harder to Find
---